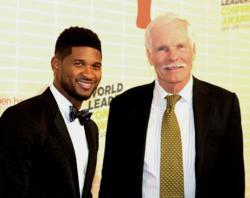 Atlanta, GA (PRWEB) July 25, 2011
R&B Legend Usher Raymond IV presented Ted Turner, founder and chairman of the United Nations Foundation, with the Service Legacy Award at Friday's World Leadership Conference, hosted by Usher's New Look Foundation. The award recognized Mr. Turner's lifetime of leadership in philanthropy, including launching the UN Foundation and in turn its Nothing But Nets campaign—a global, grassroots initiative to end malaria in Africa.
Usher's New Look has been a long-time partner of Nothing But Nets, including raising awareness and funding last year to send 40,000 life-saving bed nets to families in Ethiopia.
To date, Nothing But Nets has raised more than $35 million to distribute more than 4 million nets to families throughout Africa. For more information, please visit http://www.NothingButNets.net.
About Nothing But Nets
Nothing But Nets is a global, grassroots campaign to save lives by preventing malaria, a leading killer of children in Africa. Inspired by sports columnist Rick Reilly, hundreds of thousands of people have joined the campaign that was created by the United Nations Foundation in 2006. Campaign partners include the National Basketball Association's NBA Cares, The people of The United Methodist Church, and Major League Soccer's MLS W.O.R.K.S. It only costs $10 to provide an insecticide-treated bed net that can prevent this deadly disease. Visit http://www.NothingButNets.net to send a net and save a life.
About the United Nations Foundation
The United Nations Foundation, a public charity, was created in 1998 with entrepreneur and philanthropist Ted Turner's historic $1 billion gift to support UN causes and activities. We build and implement public/private partnerships to address the world's most pressing problems, and work to broaden support for the UN through advocacy and public outreach. Through our campaigns and partnerships, we connect people, ideas, and resources to help the UN solve global problems. These campaigns focus on reducing child mortality, empowering women and girls, creating a new energy future, securing peace and human rights, and promoting technology innovation to improve health outcomes. These solutions are helping the UN advance the eight global targets known as the Millennium Development Goals (MDGs). For more information, visit http://www.unfoundation.org.
Media Contact: Negin Janati, United Nations Foundation; (202) 378-7858; njanati(at)unfoundation(dot)org
# # #