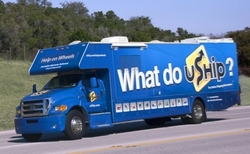 Austin, Texas (Vocus) May 10, 2010
Most summer jobs stink. Sit behind a desk. Stand behind a grill. Serve annoying tourists at some cheesy chain restaurant. It's time for those seeking summer adventure to say, "Enough is enough!" and prepare to hit the open road as a "Help on Wheels" Ambassador.
This summer two Ambassadors are driving cross-country in the Help on Wheels 40-foot, RV-style, bio diesel-powered cargo vehicle. The mission of this three-month summer tour is to travel from city to city making free local charitable deliveries for non-profits and foundations. When not lending a helping hand, Ambassadors will take the vehicle to popular festivals and sporting events, all the while documenting the trip through social media tools, like YouTube, Facebook, Twitter, Picasa and the Help on Wheels blog.
Interested applicants should submit a one-minute YouTube video and resume describing why they should be hired for the job. Apply and find out more Help on Wheels: http://bit.ly/cXutgo
By offering no-cost deliveries, Help on Wheels is joining the thousands of U.S. transporters that participate in Highway to Help, uShip's charitable shipments program that provides free or low cost delivery for those in need.
The company behind Help on Wheels is Austin-based Internet company uShip, which has created a transport marketplace that has helped match peoples' shipments with the extra space in transporters' trucks since 2004. As the first and largest online shipping marketplace, uShip has attracted $140 million in business transactions, one million listings and 170,000 service providers. The company operates globally with localized service in the United States, Canada, United Kingdom, Germany, European Union and Australia.
# # #