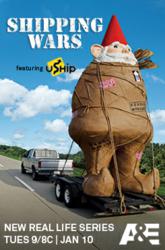 'Shipping Wars' gives a glimpse into the life of independent American truckers and how they turn the unshippable into the 'uShip-able." - Matt Chasen, CEO & founder, uShip
Austin, TX (PRWEB) January 03, 2012
uShip.com, the world's largest and most trusted transportation and shipping marketplace, is serving as the backdrop of "Shipping Wars," A&E's new original real life series that premieres Jan. 10.
"Shipping Wars" follows six independent truckers who regularly use uShip as a source of new and repeat business. The carriers use uShip's bidding platform to engage in fierce competition to transport uShip-sourced oversized and bulky loads, generally thought to be unshippable. But no shipment is too big for these professionals, whether it's hauled on a 70-foot Ford F350/Trailer combination, a classic tractor-trailer or some combination in between.
The series begins next Tuesday, Jan. 10, with back-to-back episodes at 9 p.m. and 9:30 p.m. ET/PT.
A "Shipping Wars" video trailer can be viewed at uship.com/shippingwars, along with more show information and a uShip leaderboard showing how the show's transporters stack-up against each other.
"Trucking is a tough, competitive business," said Matt Chasen, CEO and founder of uShip. "'Shipping Wars' gives viewers a glimpse into the life of independent American truckers, the unpredictable jobs they face, and how they turn the unshippable into the 'uShip-able.' We're thrilled that the interesting characters, competitive bidding and compelling loads found on uShip.com will be the spotlight of A&E's new series."
Since 2004, uShip.com has been a source for transporters shipping everything from freight to vehicles and household goods to horses. Over 225,000 registered transporters have placed almost six million bids and earned nearly $250 million in business on the site while receiving 98% positive feedback from customers, making it the most trusted transportation and shipping marketplace available.
Check out the uShip profiles of the "Shipping Wars" transporters:

"Shipping Wars" is produced by Megalomedia for A&E Networks. Executive producer is Jonathan Nowzaradan. Co-executive producers are Tom Mireles, Jeff Keels and Graham Davidson. A&E executive producers are David McKillop, Elaine Frontain Bryant, and Neil A. Cohen.
About uShip
uShip.com is the world's largest and most trusted transportation marketplace primarily serving the freight, household goods and vehicle shipping markets. Consumers and businesses can compare and book upfront quotes, name their own price or receive auction style bids from over 225,000 customer-reviewed Transportation Service Providers, ranging from independent owner-operators to the largest freight carriers and brokers. Launched in 2004, Austin-based uShip operates globally with localized sites in the U.S., Canada, Australia, UK, Germany, France, Spain, The Netherlands, Austria and the European Union. http://www.uship.com
###