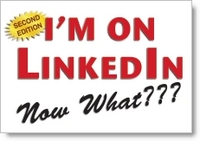 Jason has written a highly practical guide to LinkedIn that will quickly allow a new user to understand and utilize LinkedIn. It's also a great guide to the LinkedIn's hidden gems--finding high quality people through endorsements and off LinkedIn content such as Groups
Salt Lake City, UT (PRWEB) December 11, 2008
Using LinkedIn is not optional in today's business climate. With over 30 million users, it is the social network for the professional world. In the first edition of the book: I'm on LinkedIn -- Now What??? author Jason Alba showed businesses how to find new clients, get sales leads, and build professional networks on LinkedIn. In the second edition, Alba gives even more LinkedIn strategies.
"My first book, 'I'm on LinkedIn.com -- Now What???' sold ten times more copies than I expected. Shortly after writing it I realized it would need to be updated. This edition includes all of the additional features LinkedIn has added since then. This includes Applications, Group discussions, and new Company features. You'll learn more ways to use LinkedIn to build your career or businesss," said Jason Alba, author and CEO of JibberJobber.com a job search tool.
I'm on Linkedin -- Now What??? Second Edition has new ways to get even more out of LinkedIn:

Applications - Similar to Facebook Apps, LinkedIn has partnerships with various companies, allowig them to create custom Applications that can be added to a LinkedIn Profile. For example, use an Application to add a PowerPoint presentation to a Profile or to track what's being said about a Company in conversations on Twitter.
Group Discussions - Ask questions to Group members, post News items, and have conversations within Groups.
Companies - Interviewing for a new position or looking for someone to fill an open position? Learn how to quickly access all sorts of information about a company or find qualified candidates.
Professionals and businesses should have more than just a LinkedIn profile - they need a LinkedIn strategy. Each chapter summarizes exactly how to maximize LinkedIn for a job search or business goals.
"Jason has written a highly practical guide to LinkedIn that will quickly allow a new user to understand and utilize LinkedIn. It's also a great guide to the LinkedIn's hidden gems--finding high quality people through endorsements and off LinkedIn content such as Groups," said David Dalka, Senior Marketing and Business Development Professional, at DavidDalka.com
LinkedIn is not a replacement for traditional or online networking efforts. Instead, it's an excellent tool for developing additional facets of a networking strategy. 'I'm on Linkedin -- Now What??? Second Edition shows how.
About Jason Alba
Jason Alba is the CEO and founder of JibberJobber.com, a career management website designed to empower professionals with powerful career tools. Alba is an expert in using LinkedIn for business and career management topics. His work has been recognized by the Wall Street Journal's Career Journal, Money Magazine, CIO, hundreds of blogs and dozens of newspapers and radio stations.
Join Jason on Wednesday, Dec 17, 2008 for "LinkedIn & Facebook Essentials for Executives: Using Both Platforms as Professional Networking Tools." The webinar is sponsored by Netshare and Career-Resumes. Sign up at http://www.experts-connection.com
Get the most out of using LinkedIn, purchase: I'm on LinkedIn -- Now What??? Second Edition.
# # #