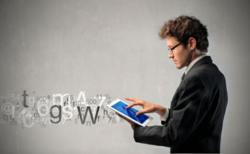 Images and videos are dominating the general direction of the web, and having a graphic presence can help businesses on a lot of levels.
Austin, TX (PRWEB) May 27, 2012
According to the newest DigitalMarketer.com article, using Pinterest for marketing is like waving a magic wand over an entire social media strategy. The newest and fastest-growing website to hit the Net is adding a whole new dynamic to spreading a brand's image. If a business has yet to realize the amazing traffic-driving potential of Pinterest, then Digital Marketer is going to show them some magic tricks.
The latest RAW Training session, created for Digital Marketing Labs members, is based on Pinterest best practices. "Pinterest for Marketers: Pin It to Win It" is a webinar given by DM social media wiz Kate Buck Jr. It shares all the most important aspects of the site while providing innovative ways to bring users from Pinterest directly to a company's site as a new and totally free way to generate traffic.
The social web is undeniably becoming more visual, said the online article. Images and videos are dominating the general direction of the web, and having a graphic presence can help businesses on a lot of levels. A quality image-driven strategy is becoming one of the most important parts of a company's marketing technique, the article said.
That's exactly what Pinterest does; it forces a visual nature with its image collecting and pin board-style layout. The article said visual corporate identity doesn't just mean a logo, but also typography, icons, photography, and ultimately, storytelling. "Pinterest for Marketers" explains how to execute such a strategy to move from engagement, to a site visit, to a prospect, and to a customer. It gives marketers Pinterest traffic tips that start working almost automatically, said the article.
And with so many users, there will be no shortage of prospects. Pinterest broke the record for fastest standalone website to reach 10 million unique monthly U.S. visitors, the article said. Only Facebook and Tumblr have more social media time on site.
Digital Marketer releases informational and educational materials to help businesses and entrepreneurs gain insight and information on the trends, data, and strategies that can take them to the top of their industry. Through their RAW Training courses, strategic plans, blogs, newsletters, site reviews, and Special Reports, Digital Marketer supercharges every single marketing campaign it touches. For more information, visit DigitalMarketer.com.
There's no doubt that Pinterest has now become a vital part of the overall social media strategy, said the article. Businesses that are ready for a full training program on using Pinterest for marketing should get access to the RAW Training today.