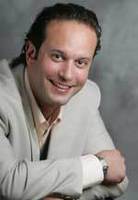 Boca Raton, FL (PRWEB) May 3, 2010
The Business Counselor Radio Program hosted by Ian M., Berkowitz on WXEL, the NPR affiliate in South Florida, will feature business and professional keynote speaker Jay Berkowitz to help businesses understand how to use social media to grow their business. The in-depth and higly informative segment will air on 90.7 FM and HD in the South Florida market on Thursday, May 6th at 7pm immediately after NPR's syndicated evening business program, Marketplace. The guest, Jay Berkowitz, is an Internet marketing expert who will be discussing the benefits of an on-line sales and marketing presence with a focus on social media tools and websites such as Twitter, LinkedIn, YouTube and other ways to improve online sales.
"Individuals and business owners need to know how to increase online sales and ways to generate more publicity in an ever changing environment. Jay Berkowitz is a world renowned Internet marketing expert who spreads his knowledge whenever he is asked to be a keynote speaker at business and professional conferences around the globe," said Ian Berkowitz, host of The Business Counselor. "I am very excited to offer Jay's vast knowledge and expertise on the topic of how to effectively and economically use internet marketing and moreover how to best use the social media outlets to my listeners not only in South Florida but also all over the country via the live web audio stream. These type of tips can and will help entrepreneurs immediately and that is the goal of The Business Counselor Radio Program. "
"We will explore real case studies of how companies are able to make money through social media. I'm eager to share the best practices we use for our company and our clients, plus the top strategies and tactics I present as a keynote speaker at business and professional conferences," said Jay Berkowitz.
About The Business Counselor:
Ian M. Berkowitz is a former Attorney with the US Small Business Adminsistration and has spent his professional career as an Attorney and Business Consultant assisting businessmen and women start, expand and grow their businesses to their full potential. He roles up his sleeves and works directly with his clients to develop and implement short and long term goals to ensure their success. Ian is the creator and host of The Business Counselor, a weekly National Public Radio talk show program for entrepreneurs, a national seminar speaker a former weekly newspaper columnist and specialized in how to obtain government money and contracts for businesses.
About Ten Golden Rules:
Ten Golden Rules is an interactive marketing agency founded by Internet marketing expert Jay Berkowitz based in Boca Raton, Florida. This search engine marketing, social media and strategic consulting agency helps companies develop programs to drive more traffic to their website, convert traffic into leads and sales, and develop ongoing communications with prospects. The 10 Golden Rules Internet Marketing Podcast is available at Podcast.TenGoldenRules.com and on iTunes. For more information please visit TenGoldenRules.com.
About Jay Berkowitz
Jay Berkowitz has been recognized as one of the top business and professional keynote speakers at many popular national and international conferences as well as a highly respected Internet marketing expert. Mr. Berkowitz author of "The Ten Golden Rules of Online Marketing," and is also an active blogger, podcaster, and Internet strategist. He developed the University of San Francisco's Internet Marketing Masters Certificate program and is the founder of http://www.InternetMarketingClub.org. He has managed marketing departments for Fortune 500 brands: McDonald's Restaurants and Coca-Cola, and has managed online and offline programs for AT&T, Sprint, and leading health and fitness website eDiets.com. Mr. Berkowitz has received numerous awards including a SOFIE Award for Best Use of Emerging Media, a Bernay's Award and the Gold Medal from Women in Communications.
###