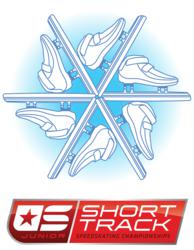 "You'll be mesmerized by the speed, the nerve and the finesse of these young speed skaters.
Woodbridge, VA (PRWEB) January 22, 2013
Sixty-three (63) of the top junior short-track skaters, ages 13-19, will vie for a berth on the U.S. Junior World Championship team at the 3-day U.S. Junior National Short-Track Speedskating Championships January 25-27, 2013 at the Prince William Ice Center. The eight U.S.Junior skaters (4 men and 4 women) selected will go on to compete in the World Junior Short Track Championships taking place February 22-24 in Warsaw, Poland .
The Junior Nationals are an important stepping stone to a possible future Olympic Games selection, in a sport where more U.S. Winter Olympic medals have been won than in any other sport. Many of these talented junior skaters have qualified for an invitation to the US Olympic trials for short track speedskating to be held later in 2013.
Presented by Prince William Hospital and the Northern Virginia Orthopaedic Specialists in conjunction with Prince William County, the events are expected to draw nearly 1,000 skaters and families, officials, volunteers from all over the U.S. The Virginia/Maryland/DC area is a hotbed for short-track speedskating in the U.S., driven in part by the strong local Korean-American community. In world competition, Korean skaters have dominated the sport, but the U.S. team is also regarded as a powerhouse in the sport thanks, in part, to the achievements of Apolo Anton Ohno, J.R. Celski and Katherine Reutter. There are five short-track clubs in the DC area, and all but one have Korean or Korean-American coaches. Connecticut Speedskating Club is teaming up with four DC area speedskating clubs: Dominion, iShortTrack, Potomac, and Washington to host and organize the event. "This is a unique opportunity to see these amazing athletes before Sochi, Pyeongchang and beyond", says Meet Director Lovey Russo. "Even if you have never watched speed skating, you'll be mesmerized by the speed, the nerve and the finesse of these young skaters."
2012 US Junior Champion John-Henry Krueger from Pittsburgh, a member of the US National team, will return to defend his title against rising talents Aaron Tran (Puget Sound, WA), Josh Cummings (Saratoga, NY), Ian Quinn (St. Louis, MO), and local favorites Thomas Hong (Laurel, MD), Shaner LeBauer and JeongSu Ha (both from Potomac,, MD) and Jae Kun Yoo (Burke, VA.) On the women's side, 2012 US Junior World team members Sally Chea (Richmond, VA) and Jacqueline Chen (San Marino, CA) will be contending with 2011 US Junior Worlds skater Lexi Burkholder (Pittsburgh, PA) and another local favorite, April Shin (Rockville, MD.)
Racing gets underway Friday, Jan. 25 at 9:30 am with the 1000m and 444m individual time trial events expected to run throughout the day until 5 pm. On Saturday, the exciting Olympic-style mass start events run from approximately 10:00 am-5:00 pm and continue on Sunday from 9:00-3:30 pm, followed by the awards ceremony and the selection of the 2013 U.S. Junior World Short Track Speedskating team. Admission to all events is free and the organizers welcome spectators of all ages to come see one of the fastest human-powered sports on ice.
For more information visit http://www.pwice.com or contact the Prince William Ice Center.
###
About US Speedskating
US Speedskating, headquartered at the Olympic Oval in Kearns, Utah, is a non-profit organization recognized by the United States Olympic Committee and the International Skating Union as the governing body for the sport of speedskating in the United States. Its mission is to be one of the premier speedskating organizations in the world through excellence in leadership, development and performance. To date, US Speedskating has won 85 Olympic medals, making it the most successful winter sport in the U.S. In addition to its elite programs, US Speedskating is responsible for the grassroots development of speedskating. For more information, follow US Speedskating on Facebook, Twitter and visit. http://www.usspeedskating.org
About Prince William Hospital
Prince William Health System, part of Novant Health, is a nationally recognized health and wellness provider comprised of an integrated network of inpatient and outpatient services and programs. We proudly serve the growing and diverse Greater Northern Virginia community to provide remarkable care for the entire family. http://pwhs.novantonline.org/
About Northern Virginia Orthopaedic Speicalists (NVOS)
Serving Northern Virginia since 1995, NVOS specializes in orthopaedic surgery and offers operative and non -perative treatment of bone and joint conditions with physical therapy and X-ray on site at its locations in Haymarket and Manassas. http://www.nvos.com