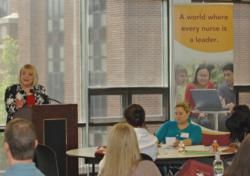 New Orleans, LA (PRWEB) January 15, 2013
The Loyola University New Orleans online graduate nursing program is ranked among the top 10 programs in the nation by U.S. News & World Report's 2013 Best Online Graduate Nursing Programs for the second consecutive year, according to the rankings released today.
The methods used by U.S. News in 2013 were based on more detailed data from the inaugural ratings in 2012 in order to give applicants a clearer understanding of program strengths. The Loyola online graduate nursing program includes both master's and doctoral degree tracks.
U.S. News scored the Loyola School of Nursing program as third among top online nursing schools in the area of student engagement specifically, recognizing its outstanding student satisfaction, teacher responsiveness, graduation and retention success. Overall, Loyola's School of Nursing ranked sixth among the more than 100 schools responding to the U.S. News data surveys.
"The recognition of the School of Nursing at Loyola University New Orleans in the U.S. News & World Report 2013 rankings results from the leadership of administration, faculty and staff in building a quality, substantive program to accelerate the formation of its students, graduates and alumni," said Ann H. Cary, Ph.D., M.P.H., R.N., professor and director of the Loyola School of Nursing. "Providing leadership in our health care system and nursing demands an exquisite commitment to education, and our graduates are outstanding exemplars who advocate for the health of the public."
The application deadline for the Loyola School of Nursing Post-Baccalaureate-to-DNP or Post-Masters-to-DNP online nursing programs is Feb. 15. Learn more about the program at virtual open houses held this month online.
Contact Mikel Pak, associate director of public affairs, at 504-861-5448 or mlpak@loyno.edu for more information.
About Loyola University New Orleans School of Nursing:
The Loyola University New Orleans School of Nursing offers online degrees for RN-to-BSN, RN-to-MSN, MSN in HCSM, and the Post BS-to-DNP and Post Masters-to-DNP. Loyola's nursing program is based on Jesuit values and educates professional nurses to lead change and translate science into practice in a dynamic global health care environment. Loyola's School of Nursing is consistently ranked by both U.S. News and World Report and thebestcolleges.org as one of the premier nursing schools in the country. The online graduate nursing programs at Loyola—the Master of Science in Nursing and the Doctor of Nursing Practice—are ranked in the top five graduate nursing online programs in the U.S. by the U.S. News & World Report 2012 rankings. For more information about the nursing online programs, including application requirements, visit the Loyola School of Nursing website.