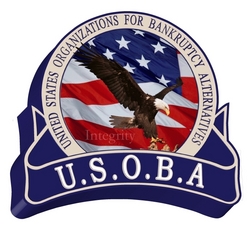 In lieu of the traditional USOBA fall conference, we are proud to collaborate with the Debt Settlement Leadership Conference in 2010, uniting the industry with a common goal of improving service and consumer support
Houston, TX (Vocus) July 20, 2010
The United States Organizations for Bankruptcy Alternatives (USOBA), the first debt settlement trade association dedicated to the advancement of consumer protection, transparency and ethical practices, announced today its affiliation with the Debt Settlement Leadership Conference for 2010.
The Debt Settlement Leadership Conference, sponsored by New Beginnings Debt Settlement and Greenspoon Marder, will be held in Las Vegas, Nevada on October 10-12, 2010. The conference will serve as an open forum for debt settlement leaders and organizations to discuss the industry's most pressing topics, such as compliance, training, software and marketing strategies.
USOBA will provide several speakers throughout the three-day conference, in addition to hosting a breakout session at the event. As the industry's leading trade organization, USOBA will educate attendees on the value of accreditation, including ethics standards, self-regulation and other best practices.
"In lieu of the traditional USOBA fall conference, we are proud to collaborate with the Debt Settlement Leadership Conference in 2010, uniting the industry with a common goal of improving service and consumer support," said Jenna Keehnen, executive director, USOBA. "We look forward to the lively discussion and thought leadership that will come out of the conference, and to meeting fellow debt settlement professionals that are committed to excellence and the highest standards of consumer protection."
Using the funds saved by not hosting its traditional fall conference, USOBA plans to host a professional development webinar in November 2010 focused on company-wide training and best practices for its member organizations.
"Thanks to our collaboration with the Debt Settlement Leadership Conference, we have the unique opportunity to provide USOBA members with both a face-to-face meeting and a webinar this fall," said Keehnen. "Our member companies will experience even more hands-on training than ever before, better equipping them to serve clients seeking to get out of debt."
Those interested in attending the Debt Settlement Leadership Conference can register online at http://www.debtsettlementleadership.org. For more information about USOBA visit http://www.USOBA.org.
About USOBA
The United States Organizations for Bankruptcy Alternatives (USOBA) is dedicated to providing its member companies with important, industry-related information, including compliance requirements, as well as advocating on behalf of its membership for fair and appropriate industry regulation that maintains the utmost in consumer protection. USOBA members are provided a USOBA State Law Summary guide, the only one of its kind in the industry, to better ensure and promote national compliance. This guide contains the laws and regulations, state by state, and has been reviewed by regulators and legislators. For further information, please visit http://www.usoba.org.
# # #