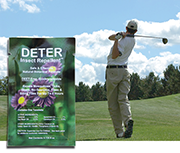 Deter Insect Repellent is very well suited for golfers. - Brad Zaro, President and CEO of Mariner Biomedical -
San Jose, CA (PRWEB) June 12, 2013
Mariner Biomedical, Inc. is providing Deter Insect Repellent® for the US Open Golf Tournament taking place at Merion Golf Club in Ardmore, PA from June 13 through June 16, 2013. The company is furnishing 2,000 individually packaged wipes containing Deter Insect Repellent® to participants, organizers and sponsors.
Deter Insect Repellent® has been proven by independent laboratory testing to effectively repel biting insects for up to 6 hours. Deter Insect Repellent® has been well received in the golfing community. It offers effective natural protection for golfers looking for a safe alternative to DEET and other chemical based insect repellents. The individually packaged towelettes are convenient to carry in golf bags or pockets. Deter will not damage golfing equipment like DEET-containing products. In addition to golf, Deter Insect Repellent® is safe and effective for all outdoor activities, including hiking, camping, backpacking and fishing.
"Deter Insect Repellent is very well suited for golfers", explains Brad Zaro, President and CEO of Mariner Biomedical. "It provides safe long lasting protection against mosquitoes and other biting insects so they can focus on their game and not worry about unpleasant, potentially dangerous, insect bites."
Deter Insect Repellent's unique patent pending formula was scientifically developed to ensure safe long term repellency against a wide range of biting insects. Tested in the laboratory and in extreme outdoor conditions it provides ultimate outdoor protection against mosquitoes, ticks, chiggers, no-see-ums, biting flies and gnats. Deter contains a proprietary blend of 8 plant oils and plant derivatives that work together to provide enhanced repellency for an extended period of time.
All ingredients in Deter Insect Repellent® are registered as GRAS (Generally Recognized As Safe), and comply with EPA regulations as a minimal risk insecticide. Deter is biodegradable and environmentally safe. It does not contain any DEET, the active ingredient in many insect repellent products that may pose significant health and environmental risks.
About Deter Insect Repellent®
Deter Insect Repellent® is an effective DEET-free, natural insect repellent based on scientific research. Deter Insect Repellent® is clinically tested safe, Dermatologist approved and proven effective by an independent laboratory. Deter Insect Repellent® is effective against mosquitoes, ticks, no-see-ums, biting flies and gnats for up to 6 hours.
http://www.deterinsectrepellent.com
About Mariner Biomedical
Mariner Biomedical, Inc. is a bio-pharmaceutical company dedicated to developing topical skin care therapies based on scientifically validated natural and marine products that are safe, effective and environmentally friendly. The Mariner Biomedical research laboratory and offices are located in San Jose, CA. Mariner Biomedical has a management and research team with over 50 years of pharmaceutical, biotechnology and clinical research experience.
Contact Information
Brad A. Zaro
Mariner Biomedical, Inc.
brad.zaro(at)marinerbiomedical(dot)com
Phone: 408-281-1275