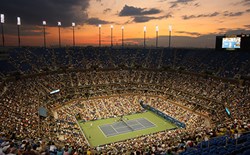 "The US Open Tennis tournament is the pinnacle of professional Tennis in the United States," says owner, DJ Segal.
Flushing, NY (PRWEB) August 27, 2013
As Tennis fans from around the world descend upon Arthur Ashe Stadium, USOpenTennisSuites.com is filling orders and putting their clients in the very best premium seats and luxury suites at the US Open. Set against the backdrop of the USTA Billie Jean King Tennis Center in Flushing, NY, the US Open is the premier Tennis event in the United States. The world's top Tennis players put their skills and athleticism on full display for the fans in this historic tournament.
Tennis megastars Rafael Nadal, Roger Federer, and Novak Djokovic will take to the court ready for an epic battle filled with unbelievable shots that will be sure to have the crowds on the edge of their seats. In the female tournament, perennial powerhouse Serena Williams faces Caroline Wozniaki and a very strong field with the intention of winning another title.
USOpenTennisSuites.com, the elite Tennis hospitality concierge division of LuxuryVIPSuites.com offers the best inventory in the marketplace. Their extensive track record of impeccable customer service ensures that their clients are handled with the best care in the business and their exclusive access to luxury boxes at Arthur Ashe Stadium guarantees that they are not overpaying for this monumental event.
"The US Open Tennis tournament is the pinnacle of professional Tennis in the United States," says owner, DJ Segal. "Our clients are interested in seeing the biggest stars in the sport from the best possible vantage point in the stadium. We specialize in providing the best customer service so that our clients can relax and enjoy these amazing matches. We handle every last detail to make sure everything runs smoothly."
USOpentennisSuites.com is the primary source of luxury suite and premium seat inventory at the US Open every year. However, their dedication to customer service and satisfaction does not end there. Along with exclusive suite inventory, USOpenTennisSuites.com has access to all of the finest hotels in New York. Customers can configure a custom package including tickets and hotel accommodations. This truly makes USOpenTennisSuites.com a one stop shop for an unforgettable US Open Tennis experience.