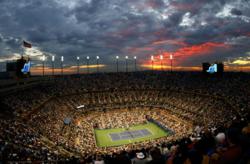 Music and Commerce the top luxury concierge agency based in New York catering to C-level execs and celebrities has the inside scoop on where to eat, stay and play like an A-Lister during the U.S. Open.
New York, N.Y. (PRWEB) July 25, 2012
The U.S. Open is one of New York's most anticipated summer events is held at the USTA National Tennis Center from Monday, August 27 to Sunday, September 9, 2012. The big-ticket event draws the best tennis players across the nation and thousands of their fans to New York City. Music and Commerce the top luxury concierge agency based in New York catering to C-level execs and celebrities has the inside scoop on where to eat, stay and play like an A-Lister during the U.S. Open.
Additionally, Music and Commerce is giving away 2 tickets to the U.S. Open to one winner. Click here for more information on how to win tickets to the U.S. Open.
All of the featured experiences and more VIP experiences can be arranged and customized for you by a Music and Commerce representative by emailing info@musicandcommerce.com or via phone at 1-866-70-WORLD
How To Travel
Apollo Jets
Most Music and Commerce clients fly private and charter jets into New York. Apollo Jets has been chartering luxury aircrafts for over 25 years complete with world-class service and experienced staff.
(Apollo Jets, http://www.apollojets.com)
Virgin America
If you're flying into New York commercially consider booking Virgin America's direct flights to JFK. The airline is making flying glamourous again and many call it a party in the sky.
(Virgin America, http://www.virginamerica.com)
Empire CLS
A chauffeured car is necessary at all times during the games. From getting back and forth from the hotel to the stadium or getting to dinner calls for a luxury automobile and a great driver. Luckily, Empire CLS has both and recently launched their fleet of chauffeured Mercedes vans to carry groups in style.
(Empire CLS, http://www.empirecls.com)
Where To Stay
St. Regis
The deluxe suite at the St. Regis is the perfect option for attendees of the U.S. Open games. The suite is luxurious without being stuffy and the hotel is only a short drive to the games. Make sure to check out the King Cole bar for a Kir Royale or two.
(St. Regis New York, 2 East 55th street, New York, NY 10022 (212) 223-0729)
Mandarin Oriental
Located in the heart of Columbus Circle in the Time Warner Center the Mandarin Oriental is the perfect option for those who wish to stay in the lap of luxury with an international twist. From five star restaurants like Asiate to the world class spa there is no end to the grandeur.
(Mandarin Oriental, 80 Columbus Circle, (212) 805-8800)
Peninsula Hotel
The Peninsula hotel is a New York City mainstay and draws an elite crowd of celebs, CEOs and royalty. The top notch accommodations and the never ending array of amenities makes this hotel a top choice for travelers who visit New York frequently. Don't miss high tea at the Gotham lounge and enjoy the stunning views a top the Salon de Ning rooftop bar.
(Peninsula Hotel, 700 5th Avenue (212) 956-2888)
Where To Eat
Aces
Good luck trying to get into Ace's the USTA complex's in house restaurant buzzing with players and VIPs during the games. The restaurant offers a wide selection of seafood and sushi. For those seeking coveted reservations should contact us for more information.
(Ace's Via USTA Billie Jean King National Tennis Center Meridian (718) 393-1933)
LAVO
Seeking the best Italian food in town with the best scene look not further than Lavo. Hit the dance floor with New York's hottest crowd after an incredible dining experience.
(LAVO, 39 East 58th Street (212) 750-5588)
Beauty and Essex
Lavish art deco interiors make Beauty and Essex a gorgeous downtown getaway. Enjoy fabulous small plates meant for sharing prepared by Chef Santos. The lounge on the second floor draws a chic mix of designers, editors and models.
(Beauty and Essex, 146 Essex Street (212) 614-0146)
Where To Play
PhD At The Dream Hotel
In the heart of the Meatpacking and buzzing with the top DJs and tons of celebrities. Great views of the city 80's style décor and mix of beautiful people make PhD an evening staple. Make sure to have your concierge make bottle reservations before your arrival.
(PhD via Dream Downtown, 355 West 16th Street, (212) 229-2559)
Stone Rose
Take in breath taking views of Central Park while sipping on mixologist approved cocktails. The never-ending ceilings, dimmed lights and sultry music makes Stone Rose the perfect destination for those who want to relax after a long day of games.
(Stone Rose, 10 Columbus Circle, (212) 823-9770)
Jane Ballroom
Feel like a New York insider at this cult favorite haunted by the likes of Scarlett Johansson and the Olsen twins. The exotic décor and chic vibe add to the ambiance.
(Jane Ballroom, 113 Jane Street, (212) 924-6700)
How To Enjoy The Games
Box Seating
There is no other way to enjoy the games than watching them via box seating or better yet the in-stadium balcony. See the action up close and get VIP access to special lounges and suites.
Meet and Greets
Nothing compares to meeting and greeting the players. A concierge agency like Music and Commerce can arrange a meeting with your favorite tennis players for the ultimate U.S. Open experience.
Can't Miss Events
The Legends Ball
The premier social event will be held on September 7,2012 at Cipriani 42end Street during the US Open. The Legends Ball is always an extraordinary evening and serves as a beneficial fundraiser for the International Tennis Hall of Fame in the mission to preserve the history of this great sport.
U.S. Open Live
You don't have to leave Manhattan to enjoy the games. You can catch live streaming video from the courts via Madison Square Park and Rockefeller center.
USTA and Heineken US Open Player Party
The party that kicks off the games and is usually held at the Empire Hotel the U.S. open player party is one of the hottest events playing host to the top players and celebs.
All of the featured experiences can be arranged and customized for you by a New York concierge agent from Music and Commerce by emailing info@musicandcommerce.com or via phone at 1-866-70-WORLD
About Music and Commerce:
Music and Commerce is one of the top international luxury marketing and luxury concierge agencies based in New York that caters to every detail of the affluent lifestyle. Music and Commerce possesses personal relationships and exclusive access to the most prestigious luxury corporations in the world. Clients include international C-level executives, celebrities and socialites.