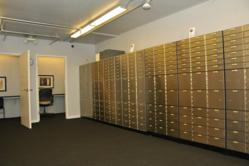 Worried about the safety of your bank deposits? You should be. USPV offers an alternative.
Los Angeles, CA (PRWEB) April 01, 2013
With European Finance Ministers announcing depositors could face a 40% loss on their bank deposits, are there ways to protect yourself in the U.S.? The solution to the banking crisis may be simple - don't use a bank.
U.S. Private Vaults (USPV) describes itself as "THE PRIVATE ALTERNATIVE TO BANK SAFE DEPOSIT BOXES". USPV allows its customers easy, fast access to their safe deposit boxes. Unlike banks which are regulated by the federal government, USPV offers its customers the ability to rent a safe deposit box without providing their name or social security number. "Security and complete customer privacy are our two primary concerns" says Kent Martin USPV C.E.O.
USPV uses sophisticated dual biometric security to identify its customers. To gain access to the 50 ton structural steel vault, a customer simply places their eyes in front of the iris scanner, and once identified proceeds into the vault to use their private key to open their personal and private box. "Unlike the sometimes lengthy and cumbersome process of accessing a bank safe deposit box, our customers can be in and out of the vault in five minutes" says Martin. The hi-tech vault is protected 24/7 by National security firm ADT, utilizing guards, hi-definition cameras and numerous other sophisticated security systems.
"Most people don't realize that their bank is legally required to divulge client safe deposit box information if presented with a court order. This includes IRS tax liens, lawsuits, or even a spouse who is suing for divorce. Once this occurs, access to their personal valuables in their individual safe deposit box is frozen" says Martin.
USPV is currently conducting free public tours of its high security vault, and is renting safe deposit boxes daily. Box Rental prices begin at $33 per month. For further information about U.S. Private Vaults, go to http://www.usprivatevaults.com or call 1-888-948-8778.