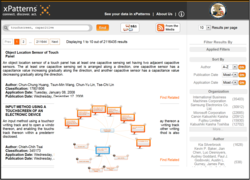 Atigeo is thrilled to deliver the Domain Expert for the United States Patent and Trademark Office (USPTO)] to the inventors and entrepreneurs fueling innovation.
Bellevue, WA (PRWEB) August 22, 2012
Atigeo™, a compassionate technology company delivering a revolutionary big data cloud software platform, announced today the release of a new xPatterns™ domain expert to explore the United States Patent and Trademark Office (USPTO), which uses semantic search tools to analyze the vast public domain corpus of patent and trademark information. Atigeo's xPatterns empowers entrepreneurialism and business innovation while protecting intellectual property (IP) by yielding richer connections and deeper insights stored deep within USPTO's database of 1.9 million individual documents and 158 gigabytes of unstructured data.
In a connected world, ideas are often influenced by existing IP, both deliberately and unintentionally. As a result, corporate legal departments spend millions of dollars to manage and defend patents, while individual inventors stall ideas that could inadvertently infringe on existing intellectual property. Current solutions for searching the USPTO's warehouse of patent and trademark information rely on keyword matching, which is linear and insufficient to find the full scope of related patents to proposed or existing intellectual property.
"Atigeo is thrilled to deliver the xPatterns USPTO Domain Expert to the inventors and entrepreneurs fueling U.S. innovation. Atigeo's unique semantic platform, xPatterns, simplifies exploration of the USPTO body of knowledge. This will empower a different way to search the USPTO's vast data archives, a body of research consisting of 1.9 million documents," said Christopher Burgess, COO and chief security officer of Atigeo.
In order to unlock hidden patterns, unknown correlations and other useful information stored in the USPTO data, Atigeo's xPatterns platform assigns relevance scores and generates domain concepts that allow users to search and find pertinent documents organized into clusters. Both linguistic and data agnostic, the xPatterns semantic search platform improves its analytical value through machine learning of user's interaction with the documents. In other words, it gets smarter the more you use it.
xPatterns reveals intellectual property recorded in the USPTO Domain Expert:

Prior art: xPatterns finds a set of patents relevant to a statement or set of terms specifying the subject matter of the patent in order to find prior art;
Related patents: xPatterns finds all related patents, as opposed to using a specific term or terms as the starting point;
Products: xPatterns finds patents based an entire product description or excerpt;
Patents in the media: xPatterns finds patents matching selected news stories taken from a URL, entire article text, or excerpt from the text.
An introduction to the xPatterns explorer into USPTO is available from Christopher Burgess: USPTO Introduction
Read, Building Successful Big Data Solutions, an Atigeo whitepaper.
Contact Atigeo at Sales(at)Atigeo(dot)com to discuss the use of xPatterns with your data.
About Atigeo™
Atigeo is a compassionate technology company turning science into products and services for a wiser world. We believe technology should benefit the greater good. That's why our intelligent platform, xPatterns, was created, to automatically and intelligently link all the "big data" being generated across all aspects of our lives, formulating knowledge. xPatterns empowers any industry to connect their data silos and legacy IT; to discover unforeseen relationships across all their data; and take action. xPatterns, a 21st Century science that is intelligent, learns, and self-discovers patterns in any volume of structured or unstructured data in real time while keeping information private. Atigeo and its partners leverage xPatterns to extract knowledge from the World's data in order to bring revolutionary insight through applications in healthcare, energy, government, consumer, and beyond. Atigeo is headquartered in Bellevue, Washington. http://www.atigeo.com
Media Inquiries
Thea Lavin or Bill Bode
Schwartz MSL for Atigeo
(415) 512-0770
Atigeo(at)schwartzmsl(dot)com
Haripurkh Khalsa
Atigeo
Media Relations
(425) 749- 5049
haripurkh(dot)khalsa(at)atigeo(dot)com