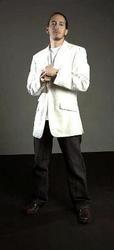 It's almost like a cartoon in 'The New Yorker', we're selling Rolex Watches back to The Swiss, sending Hublot Watches to Italy, and any IWC piece ordered, you can bet is on it's way back to Germany
Beverly Hills, CA (PRWEB) December 1, 2009
Now that the euro is so much stronger than the dollar, it's no surprise that online retailers are seeing an enormous boost in sales to Europe. What is interesting, however, is the type of items that Europeans are buying off US websites.
According to Seth Grossman, owner of world famous luxury watch website, Essential-Watches.com, these European shoppers are actually buying European products.
"We're seeing a large influx of orders and requests from Europe, more often than not, for watches that originated in the country the enquiry or order is coming from," Grossman says, "While the weak economy here is causing both small businesses and large corporations to close overnight, the same weak US dollar is definitely responsible for why Essential Watches is still around and doing so well".
Five years ago when Grossman, a 15 yr veteran of The Luxury Watch Industry launched Essential Watches online, he knew there would be risks:
"After 9/11 and two American Lead Military conflicts, we knew there'd be ups and downs, because Internet retail relies as much on International Sales as it does on Domestic. I prepared the company as well as I could, stocked only great product, secured knowledgeable and honest sales people, and compiled a database of every contact I'd ever made, to ensure we could always offer the lowest prices on the web."
Like many, Grossman's business slowed down as the economy slowly weakened, but not to the point of panic. Having only hired the minimal staff his website called for, and continuing to work night and day himself, Essential Watches managed to stay alive, and even grow.
"The last two years have been crazy, Grossman says. "At first, when small and family owned businesses were closing around us, we were more than content to stay stable, in the black. Then came the growth. Internet Sales started growing, really increasing...and we were pleased, don't get me wrong, but we were also very surprised. Not so surprised that our sales were climbing, -The Internet has a mind of its own, but more surprised about who was buying the watches."
He continues: "Ok, we all know that the manufacture of High-End Watches is one area where European products have always, and still remain the best. Rolex, Audemars Piguet, Patek Philippe, Hublot…Luxury Timepieces made in Europe are still truly the 'crème de la crème', -World Class."
"As lifestyle tools, fashion statements or solely for investments purposes, European brands are really still the only major players in the global Luxury Watch market. And with the U.S. dollar at record lows, apparently overall export sales are healthier than ever, which is great! We just never expected that European shoppers would come to us to buy their own products."
It's been well reported that many US companies have declared that sliding interest rates, the mortgage slump and the economic slowdown have been the savior of their business via the increase in international exports. But most companies reporting this have been in the vehicle and industrial worlds, and they've been exporting American products
This new concept of Europeans surfing a Beverly Hills based and American-owned European Watch Discounter, to score a deal on a Swiss or German Luxury Watch is way beyond even the most optimistic of expectations.
Grossman comments: "It's almost like a cartoon you'd read in 'The New Yorker', we're selling Rolex Watches back to The Swiss, sending Hublot Watches to Italy, and any IWC piece ordered, you can bet is on it's way back to Germany".
And like his customers, it's pretty clear he's not complaining.
###