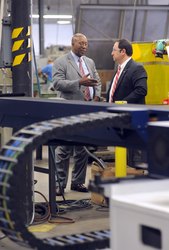 We need more companies like MARLIN STEEL WIRE building in the USA and exporting all over the world.
Baltimore, MD (Vocus) October 5, 2010
Ambassador Ron Kirk told Drew Greenblatt, MARLIN Steel's President during his visit in September, "We need more companies like MARLIN STEEL WIRE building in the USA and exporting all over the world." He was delighted that Marlin exported sheet metal baskets to Merck plants overseas and complex wire forms to China and Singapore, stating "You are growing good jobs in America. Your reinvestment back into the company is giving Marlin Steel openings in exporting."
USTR Ambassador Kirk, former mayor of Dallas TX, is leading the effort to double exports for American manufacturers in the next five years. Marlin Steel's President Drew Greenblatt declared, "Doubling exports is a lofty but attainable goal. It will grow jobs in the USA and help us get out of the recession."
Greenblatt continued, "Free Trade Agreements with South Korea, Colombia, and Panama are near Senate ratification. These will permit Marlin Steel Wire to produce products for 98 million prospective new clients. We need bigger markets like these to grow our company. Custom-engineered industrial wire baskets will sell well in South Korea, based on our experience with Japanese automakers."
Rafe Walters, Marlin Steel's plant manager stated, "We ship wire baskets and wire forms to Japanese clients like Toyota, Honda and Hitachi. Likewise, we want to ship to Hyundai, Kia and Samsung. If we ship to Korean manufacturers, then we will grow. I will hire more unemployed mechanical engineers and robot set-up engineers in Baltimore to keep up with the new demand for metal baskets and wire baskets and wire forms."
More than 20% employees of Marlin Steel Wire's talent consist of mechanical engineers or designers whose job is to come up with innovative designs. Ambassador Kirk probed the engineering team at Marlin Steel, "How did you get the skills to do these neat designs? Where did you go to school?" Ambassador Kirk observed the engineers drawing baskets for Pratt & Whitney precision engine components and for Northrop Grumman baskets to hold military products.
Ambassador Kirk watched Marlin Steel Wire Products weld custom stainless steel wire baskets that were to be exported to Argentina and complex stainless steel wire forms for China and Singapore. Mechanical Engineer Tony Witt said, "Marlin Steel's metal forming and sheet metal fabrications will be well received in Panama and Colombia. The quality tolerances of +/-0.1 mm of Marlin Steel's metal fabrication will elevate Marlin Steel to be a major fabricator for the newly opened markets in Latin America."
Marlin Steel's products are 100% made in the USA and are a model for USA factories because they export to 30 countries. More than 25% of the Marlin Steel Wire's employees are making parts for global clients and owe their job to these clients.
# # #