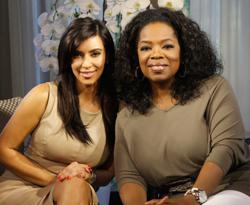 Oprah replied: "That is so perfect I could weep."
Los Angeles, CA (PRWEB) July 04, 2012
Explore Talent announced a new article today, titled, "Oprah Winfrey: The Next Kardashian?" ExploreTalent is a social media site that notifies actors of acting auditions.
The article describes how US Weekly reports that while interviewing the entire Kardashian/Jenner clan: Kim, Khloe, Kourtney, and Rob Kardashian, Kris, Bruce, Kylie, and Kendall Jenner, Lamar Odom, and Scott Disick for her show, "Oprah's Next Chapter," the queen of media reportedly fell in love with the tight-knit family.
A source told US Weekly: "She and Khloe especially hit it off. Khloe had her dying laughing. It meant so much because she loves Oprah!"
Oprah also bonded with Kim when the two discussed Kim's public divorce from ex, Kris Humprhies, after 72 days of marriage. Oprah loved when Kim said: "I've obviously made plenty of mistakes in my lifetime, but I'm not the type to sit and beat myself up over it. If a real lesson was learned, I'm so okay with having experienced that."
Upon hearing that, Oprah replied: "That is so perfect I could weep."
Now, US Weekly exclusively reports that Oprah Winfrey signed a release, and will appear on an upcoming episode of "Keeping Up With the Kardashians."
Explore Talent is a professional site that connects actors, models, musicians and dancers in the United States. The company posts entertainment news blogs on their site so that members can stay up to date with celebrity news. The online community has been responsible for new collaborations and business ventures in entertainment. Explore Talent also helps aspiring entertainment professionals further their careers with contests that showcase their profiles to members of the social media community. Furthermore, the Explore Talent site features celebrity videos, exclusive interviews with actors, actresses, and musicians, such as Joan Rivers, Usher, Akon and T-Pain.
Explore Talent's proprietary software and vast infrastructure is the most advanced entertainment-based technology of its kind. The site's popularity is based on the fact that there are many ways for talent to network, make friends and connect with other industry players, participate in wide variety of contests and earn prizes for being active on the site. The easy access to a pool of over six and a half million members attracts industry players who are posting every month about 50,000 new auditions and job openings which is 30 times more than any other site.
For more information about casting calls, visit http://www.casting-call.us/ or Explore Talent.