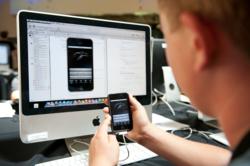 The UT Austin summer programs are two-week, intensive, pre-college programs for teens.
Campbell, CA (PRWEB) March 15, 2012
iD Programming Academy, a pre-college summer camp for teens, will hold new programs at the University of Texas at Austin starting in June. The UT Austin summer programs are two-week, intensive, pre-college programs for teens that teach skills in basic programming, iPhone® and Android™ app development, Java, and robotics engineering.
The programs, which emphasize small classes and a hands-on programming experience, will be held at UT Austin to give students a chance to explore the campus. Other iD Programming Academy locations include Stanford, Princeton, UCLA, MIT, and Yale.
The teen-only summer camp has aggressively added locations this season due to increased enrollment demand. With an array of big-name universities to choose from, teens can test-drive learning on campus while building up unique skills that will set them apart on college applications.
The new Texas summer camps, along with the other iD Programming Academy programs, are overnight, giving students a fun preview of dorm life. The programs also offer a weekend stay option, providing teens with the opportunity to explore nearby attractions and relax on campus.
Other new iD Programming Academy locations for Summer 2012 include Chicago summer programs held at Lake Forest College and New Haven summer programs held at Yale University. See internalDrive.com/programming for a full list of iD Programming Academy locations.
ABOUT iD TECH CAMPS AND iD TEEN ACADEMIES
iD Tech Camps is the World's #1 provider of summer computer camps and technology camps for kids and teens with programs held at over 60 elite universities in the U.S. Summer camps are held at Stanford, Princeton, UCLA, and other prestigious universities nationwide. Students create iPhone® apps, 2D and 3D video games, websites with Flash®, C++ and Java programs, 3D models and animations with Autodesk® Maya®, digital photography, films, robots, and more. There are also 2-week Teen Academies: iD Gaming Academy, iD Programming Academy, and iD Visual Arts Academy. Visit http://www.internalDrive.com or call 1-888-709-TECH (8324) for more information.