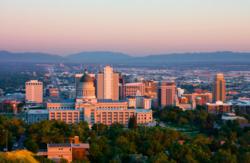 Fannie Mae releases updated HARP 2.0 guidelines to make underwriting easier.
Salt Lake City, Utah (PRWEB) September 17, 2012
National HARP Mortgage Lender Network, HARPApproval.com (http://harpapproval.com), reports recent guideline changes made by Fannie Mae to the Obama Administration's Home Affordable Refinance Program that will make it easier for HARP lenders in Utah to underwrite and fund eligible loans for the state's underwater homeowners.
With over 22,000 HARP loans completed in Utah since the Making Home Affordable refinance program was released in early 2009, Fannie Mae recognizes that there is still more work that needs to be done to reach additional underwater and near negative equity homeowners.
CLICK HERE to check HARP Eligibility.
In a recent statement released on the company's main site, Fannie Mae Senior Vice President & Chief Risk Officer, John Forlines, mentioned that the Fannie Mae team remains very focused on removing as many barriers and obstacles as possible in order to make more borrowers eligible for the program.
Of the changes recently announced by Fannie Mae on September 14, 2012, in their Selling Guide Announcement SEL-2012-09, the following highlights will have the most immediate positive impact for both banks and homeowners:

Reducing representations and warranties
Providing an alternative to income verification for Refi Plus loans with payment changes less than or equal to 20%
Reducing documentation for income and assets
Providing an alternative qualification method when removing a borrower
Fannie Mae states that the reason for these updates is to help lenders efficiently reach an even broader base of eligible borrowers and to enable borrowers who have demonstrated an acceptable payment history on their existing Fannie Mae mortgage loan to refinance and obtain a lower payment or more to a more stable product or shorter term.
CLICK HERE to check HARP Eligibility.
Don Worthington, National Director of Salt Lake City, UT HARP Lende r, Primary Residential Mortgage, Inc., commented on the new Fannie Mae HARP updates.
"We are a direct seller / servicer with both Fannie Mae and Freddie Mac, which means we have the ability to streamline the underwriting and funding process in-house. The fact that Fannie Mae is actively looking for ways to expand HARP guidelines to reach more people means that there is data to show this refinance program is having a positive impact."
Mr. Worthington also pointed out that one of the primary advantages to his company's success helping more people with the HARP refinance program in Utah is their close relationship with Freddie Mac, which tends to pose as a challenge for many other lenders.
"The Making Home Affordable Program has established critical standards that have changed the way the mortgage industry does business, leading to relief for millions of struggling homeowners," said Treasury Assistant Secretary for Financial Stability Tim Massad. "By shining a spotlight on individual servicer performance in key areas, and requiring improvements through our compliance process, the nation's largest mortgage servicers are fixing their processes while being held publicly accountable."
According to the most recent negative equity report by CoreLogic, a data and analytics company, of the 480,029 mortgages in the state of Utah, approximately 116,036 are near or underwater. This represents an average Loan-to-Value (LTV) of 70.9% for the entire state. Compared to harder hit foreclosure states such as Nevada with 111.7% LTV, the negative equity outlook in Utah is not as daunting.
About The Home Affordable Refinance Program (HARP 2.0):
In October 2011, the Federal Housing Finance Agency (FHFA), Fannie Mae and Freddie Mac announced enhancements to the Home Affordable Refinance Program that make it easier for lenders to refinance HARP-eligible mortgages.
HARP is refinance program created to help responsible borrowers who have continued to make their mortgage payments, but may be unable to refinance over recent years due to a decline in their home value.
The Obama administration claims that HARP will save homeowners an average of $250 a month in mortgage payments, and that the Home Affordable Refinance Program overall will help an anticipated 4-5 million underwater homeowners.
About HARP Approval:
HARP Approval is a national online network of mortgage professionals and lending institutions who are authorized to participate in the Obama Administration's updated versions of the Home Affordable Refinance Program (HARP 2.0 - 3.0). HARPApproval.com is managed by Best Rate Referrals, a Nevada-based online publisher and mortgage technology firm that manages over 3,000 consumer-focused real estate and financial websites.