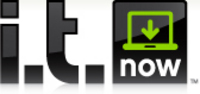 If your data isn't sufficiently backed up, the cost may be incalculable
Sandy, UT (Vocus) September 16, 2010
As computer infrastructures become more prominent in every company's workflow, so does the risk of a digital catastrophe. The most valuable thing your company has is the data it creates; therefore, a Utah based information technology company, i.t.NOW, cites the growing threats of hackers and viruses and proudly offers a public service announcement to raise awareness on the issue and ultimately protect companies against data loss.
The threat of data loss is very real and can strike through a number of avenues: hackers, phishers, internal user error, viruses, malware, spam, etc. "If your data isn't sufficiently backed up, the cost may be incalculable," notes Phil Robinson of i.t.NOW. Knowing this, a haphazard approach to data backup and restoration can have truly tragic consequences on any business.
In fact, the issue of data loss has grown dramatically as of late and many recent studies have generated shocking statistics that clearly illustrate the escalating problem:

A recent study by Pepperdine University concluded that each incident of data loss costs a company $3,957 with 70 percent of that cost being the value of the data itself. Other companies price each incident as high as $1 million.
A Consumer Reports study showed that roughly 1 in 3 computer users has been a victim of viruses, spyware or phishing. As a result, US consumers spent $7.8 billion over the last two years for computer repairs, parts and replacements because of malware attacks.
A Panda Software report noted that 1 in 20 e-mails are infected with malware.
McAfee Inc. reports that US users land on malicious websites about 285 million times per month by clicking on results from the five major search engines.
By raising awareness on data loss, i.t.NOW hopes to help companies be prepared ahead of time and ensure that their systems are in place to combat the issue.
As a business, your data is your most valuable asset. Having been involved in the information technology industry for nearly two decades, i.t.NOW recognizes the importance of protecting your data against these serious threats and aims to remedy the problem by providing a solution.
i.t.NOW is a Utah IT solutions company providing professional I.T. services for small-to-medium sized businesses, Providing managed I.T. services that keep your business in business . Since 1992, hundreds of Utah companies have saved thousands of dollars by partnering with i.t.NOW to increase employee productivity and reduce down time. i.t.NOW allows business owners to focus on growing revenue instead of solving computer problems by proactively protecting their computers and networks against data loss and ever-changing security threats and viruses. Outsourcing their Utah IT support solutions locally gives customers the flexibility to adjust i.t.NOW's services up or down as needed.
###