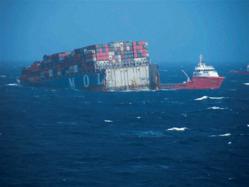 Hereford, Herefordshire (PRWEB UK) 28 June 2013
Oak furniture retailer OAKEA has confirmed that they have urgently replenished stock after a container of furniture was possibly lost at sea aboard the container ship, the MOL Comfort. The five year old vessel broke apart in transit to the UK carrying approximately 4,500 containers, one of which belonged to OAKEA and was carrying top up items from the Utah Oak Furniture Collection.
The container included items such as oak TV units, oak sideboards, bookcases and oak bedroom furniture. The ship shed several containers as the vessel broke apart. A statement from MOL has confirmed that as of 27 June 2013 the Aft section of the ship has sunk with 1,700 containers, whilst the Fore section is being towed to shore. OAKEA is now waiting for confirmation as to the location of their container.
OAKEA's Henrik Pontoppidan commented "We have customers waiting for Utah oak furniture items so rather than wait to see if our container was still floating we immediately re-ordered the same items from the factory in Vietnam." The factory began working on the production and OAKEA expects delivery in August.
OAKEA specialises in oak and pine furniture and imports many containers throughout the year, this container only represents a small amount of stock for the company, meaning the vast majority of items available on the OAKEA website will be unaffected and remain in stock in the Hereford warehouse. Henrik continued "We will make sure that any customers who are waiting for delayed items are kept up to date with new arrival dates."
The company recently launched a new website, which lists stock levels and arrival dates for the public to view. Henrik added, "The majority of our items are in stock all year round, by listing availability online we give people the confidence to make the right decision and make sure they are informed all the way from buying to delivery and beyond." The few Utah Oak Furniture items that are delayed can be viewed with arrival dates on the website.
OAKEA imports and retails oak and pine furniture online across the UK and to customers via the Hereford showroom. The company launched in 2004 with the vision of supplying oak furniture from stock, with no long leadtimes, a reliable delivery service and no deposits.
The Utah Oak Furniture Collection is OAKEA's flagship range and comprises desirable oak furniture for the bedroom, dining & lounge. The highlights of the collection include an Oak Sideboard that transforms into a laptop desk with a double filing drawer, and an Oak Display Cabinet with glass shelves, glass sides and an optional LED spotlight.