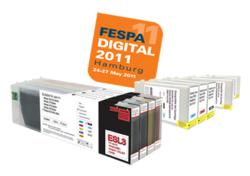 Macau, China (PRWEB) May 24, 2011
Integrated wide-format solution provider UTec announced the launch of compatible eco-solvent cartridges for Roland RS-640 and compatible cartridges for Canon PFI-102 during Fespa Digital 2011 in Hamburg, Germany. Designed with a plug-and-play concept and equipped with full functionality chips, the compatible cartridges offer an ease-of-use and cost-effective option for users.
UTec's motto for the show, "As important as Being in Color is Staying in Color," reflects its commitment to providing innovative, high-quality and cost-effective wide-format inkjet products which meet or exceed customers' expectations. Other than these two newly debuted cartridges, UTec will also showcase a wide range of cartridges and bulk ink solutions for use in popular HP, Epson, Canon, Mimaki and Roland wide format inkjet printers.
UTec's booth is conveniently located at A22, Hall A2 of Messe Hamburg. For more information please check out our website at http://wideformat.union-tec.com
About UTec:
Located in Macau adjacent to Zhuhai, the capital of China's printer consumable industry, Union Technology International (MCO) Co., Ltd ("UTec") is one of the world's best-known suppliers of top quality aftermarket printer consumables, serving customers in over 120 countries worldwide. UTec is renowned for its one-stop product offerings, strong technological capabilities, good quality and outstanding customer service.
Media Contact:
Mr. Alvin Lau, Marketing Manager
Phone: +853 2871 5020
Website: http://www.union-tec.com | http://wideformat.union-tec.com
###