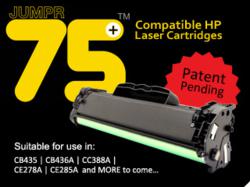 Macao (PRWEB) January 28, 2012
UTec announces the launch of a new series of compatible laser cartridges called JUMPR 75+. The new line of laser cartridges, which employ Print-Rite's patented SJVP technology, combine the values of ultra high print yield, superior print quality, low cost per page and environmental friendliness into one single package that simply out-perform counterparts in the market. Compatible CB435A and CB436A cartridges for HP printers are the first two models to start shipment. Both cartridges print 3,500 pages, 75% more than the original and other aftermarket cartridges.
SJVP includes a switching system that enables contact development process cartridges to work in the prevailing jump development printing environment. The new technology also features a toner reuse system that significantly improves toner efficiency, resulting in an almost doubling of print yield using the same toner load. Cartridges employing SJVP technology will have almost zero waste toner, hence help to alleviate green house gas effects through lower net CO2 emission from incinerated waste toner. By using a different toner to work with SJVP, the JUMPR 75+ cartridges also radically cast out the defects of poor fusing and backgrounding typically found in many aftermarket cartridges that use mechanical magnetic toner.
"Compatible CE278A and CE285A will be rolled out in late February 2012," said Iris Ngo, General Manager of UTec, "but the biggest excitement will be the release of JUMPR 75+ cartridges for use in heavy duty network printers like HP 4250 in the second quarter of 2012, as customers offering MPS are lining up to order these ultra high yield cartridges."
To learn more about the features of JUMPR 75+ cartridges, please visit UTec website at http://www.union-tec.com.
ABOUT UTec
Located in Macao adjacent to Zhuhai, the capital of China's printer consumable industry, Union Technology International (MCO) Co., Ltd. ("UTec") is one of the world's best-known suppliers of top quality aftermarket imaging products and components. As the only truly vertically integrated supplier in aftermarket imaging supplies, UTec provides one-stop product offerings, technological advanced solutions and excellent customer service, earning recognition from customers worldwide.
UTec is backed by one of the world's largest vertically integrated printer supplies manufacturing establishments, with advanced design, production & testing facilities and over 500 experienced engineering and R&D talents. It also has the largest number of patent portfolio among all aftermarket manufacturers holding over 1,500 registered patents. As a result, our products are manufactured to the highest precision with outstanding performance and we can help our customers meet or even exceed the ever-changing market demands through innovative products.
To ensure the highest product quality and safety, we adhere to strictly controlled procedures and processes that meet ISO9001, ISO14001 and IECQ QC080000 standards. Quality management tools such as Statistical Process Control, Process Capability Study, SAP quality module and 6 Sigma Methodology are also used.
For more information about UTec products and company information, please visit http://www.union-tec.com.
Media Contact:
Union Technology International (MCO) Co Ltd
Alvin Lau, Marketing Manager
Tel: 853 - 28715020
Fax: 853 - 28715001
Website: http://www.union-tec.com
###