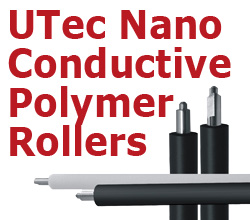 Macau, China (PRWEB) June 15, 2011
As a true innovative printer consumables and parts supplier, UTec will debut a new series of "Nano Conductive Polymer Rollers" for use in toner cartridges during Reciclamais South American Expo 2011, which will be held from June 14 to 16 in Sao Paulo, Brazil.
Thanks to the advanced nanotechnology developed for the production of the core material, Nano Conductive Polymer Rollers deliver excellent uniformity and low mechanical resistance, providing contamination- and background-free printing and a long lifespan that truly outshine rollers made with conventional materials.
Besides presenting this latest breakthrough in roller technology, UTec will also showcase a comprehensive range of compatible laser and inkjet cartridges, compatible copier toner kits, compatible ribbons and wide format supply solutions.
UTec booth is conveniently located at F26 of the Yellow Pavilion at the Expo Center Norte. For more information, please check out our website at http://www.union-tec.com.
Media Contact:
Alvin Lau, Marcom Manager
About UTec
Located in Macau adjacent to Zhuhai, the capital of China's printer consumable industry, Union Technology International (MCO) Co., Ltd ("UTec") is one of the world's best-known suppliers of top quality aftermarket printer consumables, serving customers in over 120 countries worldwide. UTec is renowned for its one-stop product offerings, strong technological capabilities, good quality and outstanding customer service.
# # #