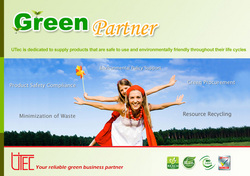 For us, it's all about trust--trust that UTec products will always perform flawlessly and trust that our products will always comply with the regulations governing the markets in which they are offered.
Macao (PRWEB) July 19, 2010
In the wake of all the recent product recalls and disastrous industrial accidents around the world, many governmental agencies and consumer groups are now more vigilant than ever when it comes to product safety and protecting people and the environment from hazardous materials. Faced with increased scrutiny from both governmental and consumer organizations, third-party supplies distributors understand the substantial liabilities they risk if they are discovered to be marketing products that do not comply with local regulations regarding the use of hazardous materials or to be marketing unsafe products. Smart distributors realize the best way to avoid stiff fines, huge legal bills, and other regulatory headaches is to ensure that the products they sell pose no risk to the end user and will cause no damage to the environment.
Union Technology International (MCO) Co. Ltd. (UTec) provides its customers with the peace of mind that comes from knowing they are marketing goods designed to ensure overall product safety from the earliest phases of their development. All UTec imaging products are covered by $10,000,000 worth of product liability insurance. UTec customers also know that the products are tracked throughout their lifecycle to assure they remain safe and compliant with regional regulations. "Before any UTec product hits the market," explains UTec general manager Iris Ngo, "we put safeguards in place to make certain our cartridges and other digital imaging supplies will comply with all product safety regulations in the regions where they will be sold as well as provide performance that is second to none." After reaching full production, she says, the firm's Quality Systems Audit Team routinely monitors products to quickly identify any problems and make corrections if a product should be found to be out of compliance.
"We strive to give our distributors and their customers a comfort level that is second to none when it comes to issues around product safety," says Ngo. "For us, it's all about trust--trust that UTec products will always perform flawlessly and trust that our products will always comply with the regulations governing the markets in which they are offered." The reason that UTec customers can have such confidence in the firm is because all of its products come from one source: UTec's world-class manufacturing partner, Print-Rite Unicorn Image Products Co. Ltd. of Zhuhai. Print-Rite has been manufacturing supplies for decades and has developed proprietary production equipment, assembly lines, and manufacturing procedures over the years. It operates a modern, 1.2 million square feet factory in Zhuhai, China, which has been awarded several ISO certificates as well as numerous other accolades detailed below.
Today, most third-party supplies vendors source their products from multiple vendors so it is difficult to determine where the products originated and what materials were used in the manufacturing process. Often, companies that once manufactured their own third-party consumables, long ago shuttered their plants and now outsource to any number of suppliers. These companies have little to no input into product development and lack even the most basic understanding of what goes into the products they are selling. Frequently, these firms are focused exclusively on delivering cheap finished products. Instead of using safe raw materials that comply with regulations such as the European Union's REACH initiative, these companies employ inexpensive components and simply hope for the best when it comes to facing the regulators and other watchdog groups.
Ngo warns that distributors need to be mindful of where they source their cartridges. "Buyers always need to beware. Do their suppliers have internal controls set up to ensure product safety? Do they control the materials they are using? Are the suppliers well versed in regional regulations and can they guarantee their products are compliant? And if the worse does happen, do they provide product liability insurance? " She maintains that if a buyer can't satisfactorily answer all those questions, there could be trouble. "Rather than just look at price," Ngo says, "buyers need to investigate all of these areas. If they get caught violating a hazardous materials regulation, it will cost them dearly. The cost of the suit will be great, not to mention the cost of the product recall."
Going back to the 1990s, Print-Rite has had the credentials that any prudent third-party digital consumables buyer should look for in a supplier. It was the first printer consumables manufacturer in China to win ISO 9001 and ISO 14001 certification and the first third-party supplies vendor in the world to obtain an IECQ HSPM QC 080000 Certificate, which provides a framework for the responsible control and management of hazardous substances. The firm is compliant with the EU's REACH and RoHS initiatives regulating the use of hazardous materials, and its products also satisfy all the requirements of the US Consumer Product Safety Improvement Act of 2008. In the past two years, Print-Rite has received numerous environmental awards including the Hong Kong Enterprise Environmental Achievement Award (2008), Hong Kong-Guang Dong Cleaner Production Partner (2009), CAPITAL Outstanding Green Excellence Award (2009), and the Hang Seng Pearl River Delta Environmental Awards (2009). Most recently it was recognized for its achievements in productivity and quality by the Chief Executive of Hong Kong Special Administrative Region.
About UTec
Union Technology International (MCO) Co., Ltd. (UTec) is one of the world's best-known suppliers of top quality aftermarket printer consumables, serving customers in over 120 countries for more than 20 years. We offer over 4,000 SKUs in remanufactured and compatible laser cartridges and inkjet cartridges, CISS, wide format supplies, compatible ribbons, print media, inkjet and laser cartridge parts, bulk ink and toner.
UTec products are produced in one of the largest vertically integrated aftermarket printer consumable manufacturing establishments in Asia with 100,000m2 of production area, advanced R&D and testing facilities and experienced engineering staff and workers. It is ISO 9001 and ISO14001 certified. We are dedicated to supplying products that are safe and environmentally friendly. Our products are RoHS and REACH compliant and meet IECQ QC080000 and China Environmental Labelling standards.
For further information, please visit http://www.union-tec.com
Media Enquiries:
Union Technology International (MCO) Co., Ltd.
Contact : Mr. Terry Tai, Marketing Manager
Tel: 853 - 2871 5020
Email: terrytai(at)utec(dot)com(dot)mo
# # #