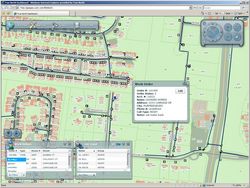 This will enable us to reach some of those goals. We are a growing system and are glad to have unlimited access for our staff.
Redlands, California (PRWEB) February 19, 2009
Consolidated Utility District of Tennessee can now leverage its investment in geographic information system (GIS) technology for field and office operations through participation in ESRI's Small Utility Enterprise License Agreement (SU-ELA) program. Consolidated Utility District uses GIS to make departmental information accessible across the organization, track fleet vehicles, and support field personnel. The SU-ELA program makes it easy and cost-effective for the water utility to maximize and expand its GIS capabilities.
The SU-ELA program, available to utilities in the United States with 100,000 meters/connections or fewer, provides Consolidated Utility District with unlimited deployments of ESRI's ArcGIS platform to desktop, server, and mobile devices. It includes staff training, maintenance and support for products, and passes to ESRI's International User Conference. Consolidated Utility District plans to extend its use of GIS to enable digital editing of infrastructure information in the field, increase its use of utility network analysis tools, and make access to the GIS easier for users in a variety of departments. The utility provides water and wastewater services to Rutherford County in central Tennessee, with approximately 46,000 meters.
"In today's economic environment, it is our desire to be as efficient as possible," said Larry McElroy, the utility's general manager. "This will enable us to reach some of those goals. We are a growing system and are glad to have unlimited access for our staff."
Andy Koostra, systems manager for Consolidated Utility District, said, "When we heard about the program, we signed up right away. Over the past five years, GIS has improved our data organization and made information held in different systems, such as customer information, accessible in one place. Now, we can use ESRI's advanced analysis software to expand the benefits of our existing GIS. The program gives us economical access to advanced GIS server technology, so we plan to develop in-the-field editing capabilities for our field personnel who carry tablet PCs." Currently, the utility uses ESRI ArcGIS Server technology to provide field technicians with vehicle location and work order information.
At the heart of the SU-ELA program is ESRI's ArcGIS software, an open, scalable, and interoperable platform that provides a complete system to create, serve, and use geographic information. An enterprise GIS based on ArcGIS technology benefits designers, analysts, decision makers, field staff, and customers through mobile, Web server, and desktop applications.
For more information on the SU-ELA program and to listen to the SU-ELA podcast, visit http://www.esri.com/suela. To speak to an expert, call 800-447-9778, extension 2990.
About ESRI
Since 1969, ESRI has been giving customers around the world the power to think and plan geographically. The market leader in GIS, ESRI software is used in more than 300,000 organizations worldwide including each of the 200 largest cities in the United States, most national governments, more than two-thirds of Fortune 500 companies, and more than 7,000 colleges and universities. ESRI applications, running on more than one million desktops and thousands of Web and enterprise servers, provide the backbone for the world's mapping and spatial analysis. ESRI is the only vendor that provides complete technical solutions for desktop, mobile, server, and Internet platforms. Visit us at http://www.esri.com.
ESRI, the ESRI globe logo, ArcGIS, GIS by ESRI, http://www.esri.com, and @esri.com are trademarks, registered trademarks, or service marks of ESRI in the United States, the European Community, or certain other jurisdictions. Other companies and products mentioned herein may be trademarks or registered trademarks of their respective trademark owners.
###