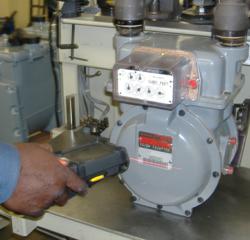 Our meters sit outside for 20 or 30 years. There's no other barcode badge (than Camcode's) that has a chance of making it that long.
Cleveland, OH (PRWEB) May 03, 2011
Utility companies throughout the U.S. must monitor millions of meters located outdoors under brutal weather conditions, such as searing heat and driving snow. For meters in extreme weather conditions, durability is a primary concern when evaluating barcode technology options.
That's why many utility companies are turning to Camcode for their Metalphoto® anodized aluminum utility asset labels, which remain readable for 30 years, even in the harshest conditions.
"Our meters sit outside for 20 or 30 years," said one major U.S. gas supplier that currently uses Camcode asset labels on its meters. "There's no other barcode badge (than Camcode's) that has a chance of making it that long. It was much more durable than the closest competitor."
This gas supplier installs 20,000 to 30,000 Camcode asset tags a year on new meters placed in the field. These property tags play a critical role in tracking the status of the meters from cradle to grave. The barcode labels are being read every time a meter is taken into inventory, shipped out and installed, removed from service or received and tested for accuracy. Using barcode technology versus manually keying in the meter's serial number reduces errors and increases efficiency.
"The barcodes are eliminating mistyped numbers and speeding up the time it takes to accurately manage and track our meters," the gas supplier said. As they implement a new asset management system, the gas supplier said they expect reliable asset tags to become even more critical.
"Camcode's asset labels are a crucial part of achieving best practices in asset management for utility companies and any other organization that must track assets," said Jon Keserich, VP of Sales for Camcode. "Our asset tags virtually eliminate the errors caused by manual data collection, and deliver greater productivity and reduced labor costs associated with asset management."
ABOUT CAMCODE: Founded in 1979, Camcode is a recognized worldwide leader in the design and manufacture of durable pre-print barcode labels, such as asset tags and UID labels for asset tracking and unique identification (UID) applications. Camcode's asset tags improve the efficiency of asset tracking systems by eliminating errors caused during manual data collection and increasing data acquisition speed. Camcode's Metalphoto® anodized aluminum barcode labels, premium plastic label constructions, and proprietary coating technologies satisfy the most demanding applications. For more information, visit http://www.camcode.com or call 800-627-3917.
Metalphoto® is a registered trademark of Horizons Incorporated.
# # #