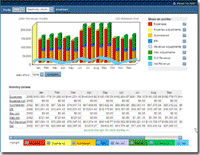 The quality of our work has been recognized by many, including the PA. Obviously these events have set us back as a business unit, but this process, though unfortunate, has taught us a lot about how big business operates
New York, NY (PRWEB) October 31, 2012
Genergy Inc., a NYC based provider of utility billing services, was first contracted by the Port Authority of NY & NJ in January of 2006. During its term, which was set to end in 2009, Genergy located unknown meters, increased the PA's energy recovery revenue, and was praised for a job well done, or so it seemed.
The PA issued various correspondence acknowledging Genergy effort, renewed the firm's contract twice, once in 2010 and then again in 2011, and even entered into a separate $20+ Million agreement authorizing Genergy to read electric meters remotely. But as Genergy began to uncover massive energy deficits, the project was halted forcing the company to layoff some 50 employees. Decimated and with an unpaid $2+ Million in PA receivable, Genergy sought federal protection under US bankruptcy law.
Shortly after filing bankruptcy, Genergy commenced legal action against the PA - United States Bankruptcy Court, case no. 10-15622. But the firm's lawsuit was countered by the PA, according to case 10-15662 docs, for some $30 Million worth of inadequate back work claims.
Dragged into long, and costly proceedings, a dejected Genergy agreed to proposed PA terms and on September 12, 2012 settled case no 10-15662. According case 10-15662 terms of settlement, Genergy agreed not to pursue its $2+ Million in PA receivable while the PA abandoned its $30 Million claim. Genergy's Chief Operating Officer has since expressed concern, wonder which portion of the project was rendered inadequately.
Genergy claims that once ousted, the PA's official web site posted a contract notice tasking its successor, a non NYC based firm, to read electric meters and to provide utility billing services. The price tag? According to Genergy, more than twice the amount it was paid for the same work.
When asked about the events leading to his firm's current status, Dario Gristina, Genergy's CEO, stated "NYC based small businesses like Genergy drive services, products, vision, ingenuity, competition, ambition, skill, opportunity, employment, courage, dreams, and hopes. Our community is a better community with small businesses like Genergy in it. NYC would be greatly served if local businesses like Genergy received support from strategic partners, the kind that spurs growth - the kind that betters the business community overall."
When asked about the PA squabble, Genergy's Chief operating officer commented, "We're a small business enterprise with more than 25 years of impeccable service. The quality of our work has been recognized by many, including the PA. Obviously these events have set us back as a business unit, but this process, though unfortunate, has taught us a lot about how big business operates."
As a testament to the dedication and resiliency of community based small businesses all across America, and in NYC in particular, Genergy recently teamed with Archangel Energy Group and continues to read electric meters and to provide many of its core infrastructure and energy products, including utility billing services.
About Genergy:
Genergy has been providing innovative, state of the art energy management services since 1984 and was first featured in Better Buildings for its innovation in 1988. Along with electric meter reading and utility billing services, Genergy provides infrastructure management, power availability studies, energy analytics, metering system design services, and meter procurement, installation and maintenance. The firm and its principals are the owners of US Patent numbers 7,069,121 and 7,668,67, both related to the energy management field. For more information, contact Genergy at (888) The-Platform.