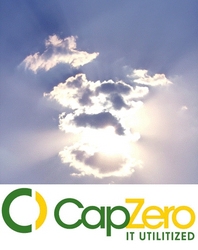 How Cloud, Private Cloud & Utility Infrastructure Are Different
Englewood, CO (Vocus) April 20, 2010
In the new article, "How Cloud, Private Cloud & Utility Infrastructure Are Different", just written and released by CapZero, they say "Companies that want the benefits of cloud services without the risks are looking to create cloud-like environments in their own data centers – the private cloud is born". Enter the utility model; the future of enterprise IT is in private clouds. Elastic, pay-as-you-go data center infrastructure modeled after public cloud providers like Google and Amazon, but put together and managed from within for each independent business unit.
This CapZero article highlights how the HP Utility offering is a change in the data center environment; a 'utilitized' infrastructure is the financial packaging of resources, such as storage, computing, network and software as a metered service; analogous to a traditional public utility company (such as electricity, water, natural gas, or telephone network). The utility infrastructure has the benefit of the zero capital acquisition; in its place, hardware resources are in effect rented.
In this newly released article, here's how Bill Thomas, author, recently explained Utility to a colleague:
Buying gasoline at the local Texaco station is just like the utility infrastructure model – you acquire only what you need when you need it, albeit at $2.76 a gallon for your 15 gallons – your total cost of ownership [TCO] is $41.40. If you had to buy gas like IT had to purchase infrastructure for the data center; you'd have to buy, with capital dollars, the oil field, the ship, the refinery, a truck and the gas station, notwithstanding the former, at $1.35 a gallon for your 15 million gallons – your TCO would be north of 1 trillion dollars though. But, you saved $1.41 per gallon getting it this way.
The article explains "this apples-to-oranges mis-comparison is common amongst all the hardware providers, it's like chalk and cheese – they just don't compare to one another". You cannot compare the $2.76/gal to the $1.35/gal, you must consider the current cost of capital, the actual utilization of your environment, the value of capital as compared to revenue generating projects that compete for capital, etc. To get to the net/net of it all, you'll need to build a financial model that uncovers the true comparisons and business case.
The CapZero article explains to the IT manager that a storage array will typically have allocated LUNS based upon the needs of many projects and applications. Today, a storage manager buys and allocates centered on what a project needs in the future; typically these are projected data requirements 2 to 4 years from now. Thomas explains that storage that is allocated directly to a host is not accessible by other host servers; creating pockets of unavailable and therefore underutilized capacity across the enterprise organization. Experience and research show us that the average storage array that is 100% allocated, is usually only 20 to 30% utilized based upon the actual data stored – the array is 100% allocated and therefore in order to add LUNS, a new array must be purchased.
The meat of this article revolves around these main concepts:

The utility model capitalizes on both thin and thin-like provisioning and can be metered down to the actual consumption level, not just the allocation level.
Utility is configured with base and buffer - and are charged for based upon actual usage today, not what is needed a year from now or even 4 years from now.
Businesses with unpredictable storage requirements, unplanned or out-of-cycle growth or even sudden peaks in demand can avoid the delays and capital expenses that result from physically acquiring and installing new hardware – utility resolves the issues within our ever changing environment.
Utility infrastructure, sometimes known as on-demand IT, pay-per-use and, commonly, infrastructure-as-a-service, is new, agile and cloud-like. With utility infrastructure you get a "cloud-like" experience within a corporate environment under your corporate controls. Data centers are infamously underutilized, with resources such as storage arrays often only utilized at 20 to 30% of their data capacity, but yet 100% allocated. This is due to over-provisioning and over-allocation — buying more hardware than is needed on average in order to handle what you need 3 to 4 years from now.
The conclusion of this article points out that today we are a part of a game-changing shift in information technology — witness technologists and CFO's working in tandem to make decisions based upon business requirements and financial choices, not on technology opinions. This magnitude of change comes around only once a decade. The utility model opportunity is so substantial that it affects not only the current business model, it will additionally affect IT architecture and how we design, deploy, run and deliver infrastructure.
By Bill Thomas, General Manager at CapZero. CapZero, LLC is the leading Utility Advisor for HP IT solutions. CapZero improves how technology products and services are defined and delivered to businesses worldwide inside of the Utility Infrastructure program. CapZero, HP's designated expert in Utility Storage is equipped and organized to help you; representing not only Utility Infrastructure and the servers, storage and network that come with it but CapZero also offers other key services like Utilization and Allocation Discovery & Assessment, URI vs. Buy/Lease Financial Modeling, HP Utility Proof-of-Concept, Data Policy Development, ITIL Workshops, Shared Services and Charge-Back implementations. CapZero is based in Denver Colorado and does business world-wide. Learn more about CapZero on their website at http://www.CapZero.com. We blog at http://capzero.wordpress.com
###