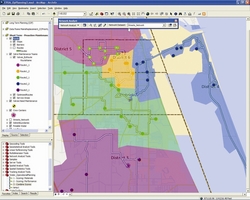 They will hear lessons learned at other water utilities, see live demonstrations, and be able to interact with several ESRI business partners during our Solutions Fair.
Redlands, California (PRWEB) July 30, 2008
ESRI is presenting a series of no-cost water seminars in 20 U.S. cities in September and October this year. Water professionals will see how geographic information system (GIS) technology enables them to use the geographic approach to obtain operational awareness across the enterprise. They will find out how GIS enables them to integrate asset management tools and apply mobility solutions, ultimately improving their operational planning.
Water professionals make crucial decisions every day and depend on having reliable, accessible data at their fingertips. This seminar will teach them how to implement and maintain a water information system using GIS. They will discover how GIS is crucial to effective and efficient operations both in day-to-day business activities and in an emergency.
"This is a great opportunity for water executives and managers to not only interact with their local peers but also explore how they can use GIS for their daily decisions and long-range planning," says Chuck Cmeyla, public works industry solutions manager, ESRI. "They will hear lessons learned at other water utilities, see live demonstrations, and be able to interact with several ESRI business partners during our Solutions Fair."
Water executives involved in the management, design, and maintenance of water systems, as well as the GIS professionals who support them, are encouraged to attend a seminar. Participants will learn about GIS for water including how to more effectively manage an infrastructure, get information into and out of the field, and gain a comprehensive view of operations. Attendees will also delve into solutions used today in the water industry and become familiar with new solutions.
The seminar locations are Anaheim and Oakland, California; Denver, Colorado; Tampa, Florida; Atlanta, Georgia; Naperville, Illinois; Overland Park, Kansas; Silver Spring, Maryland; Worcester, Massachusetts; Detroit, Michigan; Minneapolis, Minnesota; Newark, New Jersey; Albany, New York; Dayton, Ohio; Portland, Oregon; Allentown, Pennsylvania; Arlington and Houston, Texas; Seattle, Washington; and Brookfield, Wisconsin.
For more information about this seminar series, visit http://www.esri.com/water_seminars.
About ESRI
Since 1969, ESRI has been giving customers around the world the power to think and plan geographically. The market leader in GIS, ESRI software is used in more than 300,000 organizations worldwide including each of the 200 largest cities in the United States, most national governments, more than two-thirds of Fortune 500 companies, and more than 7,000 colleges and universities. ESRI applications, running on more than one million desktops and thousands of Web and enterprise servers, provide the backbone for the world's mapping and spatial analysis. ESRI is the only vendor that provides complete technical solutions for desktop, mobile, server, and Internet platforms. Visit us at http://www.esri.com.
ESRI, the ESRI globe logo, GIS by ESRI, The Geographic Advantage, The Geographic Approach, http://www.esri.com, and @esri.com are trademarks, registered trademarks, or service marks of ESRI in the United States, the European Community, or certain other jurisdictions. Other companies and products mentioned herein may be trademarks or registered trademarks of their respective trademark owners.
###