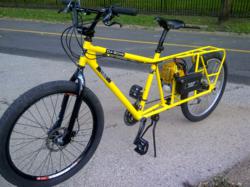 Motorized cargo bicycles made in the USA.
Philadelphia, PA (PRWEB) February 01, 2012
Design Logic Bikes U.S.A., the innovative designer of motorized utility bicycles, is proud to announce the launch of their new 2012 Da Bomb. This bike, along with the new Da Trail, is made in the USA from 4130 cromolly and TIG welded to the highest engineering standards, and has been rigorously tested to ensure it will hold up to strenuous circumstances.
"We were looking to really push the envelope of utility bicycles with this model," says Lance Portnoff, CEO of Design Logic Bikes U.S.A. "I took 9th place in the 2010 Death Race in Arizona with our prototype Da Bomb, and we have put over 300 test hours into improving it."
The new Da Bomb can reach speeds of up to 30 mph and an amazing 150 mpg, making it a green option for transportation and recreation. Design Logic Bikes achieves these numbers by mounting a Subaru EHO 35 cc four stroke engine with an American made Staton gearbox to the frame, which features a built in rack capable of carrying 150 lbs. The Da Bomb can also be pedaled with the engine off, increasing its fuel efficiency exponentially, or ridden with no engine at all.
"This year is going to be huge, as not only have we updated the Da Bomb, we've also released our new Da Trail," says Portnoff. "This bike has a shorter wheelbase, making it a perfect platform for electric bike kits."
Along with the release of the 2012 Da Bomb and the new Da Trail, Design Logic Bikes U.S.A. would also like to announce that they are promoting an east coast racing series for motorized and electric bicycles in the spring of 2012. Updates and info will be posted on their website.
To see a demo of the Da Bomb, please visit: http://www.youtube.com/watch?v=wzLu1ZMZ6V8
About Design Logic Bikes U.S.A.
Design Logic Bikes U.S.A. is a utility bicycle manufacturing company located in Philadelphia, Pennsylvania. All bikes are designed in-house and made in the USA. Design Logic Bikes U.S.A. strives to create durable green products that offer alternative modes of transportation.
Contact
Design Logic LLC
2124 South Street
Philadelphia, PA 19146
http://www.DesignLogicBikes.com
(215) 317-7444
DesignLogicBikes(at)gmail(dot)com
US Patent - D633828
# # #