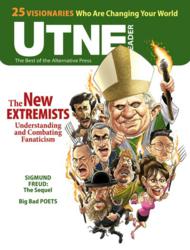 These are people who don't just think out loud, but who walk their talk on a daily basis.
Minneapolis, Minn. (PRWEB) October 10, 2011
Utne Reader, the best of the alternative press, names 25 people across various fields to its annual list of "People Who are Changing the World." The magazine profiles each visionary in its November-December issue, on newsstands Oct. 20.
2011 Visionaries:

Azzam Alwash, Nature Iraq founder and marshland rehabilitator; Iraq
Soya JF Barnett and Heather Jarvis; SlutWalk organizers and rape victim advocates; Toronto
Dr. Peter Beilenson, founder of The Evergreen Project, a new health care co-op model; Baltimore
Diana Beresford-Kroeger, botanist studying trees and developing a plan to reforest the planet; Ontario, Canada
Lera Boroditsky, Stanford University cognitive scientist studying how language shapes thought; Palo Alto, Calif.
Paula Cannon, University of Southern California microbiologist pursuing a new HIV treatment; Los Angeles
Tim DeChristopher, climate activist; Salt Lake City
Alice Dreger, Northwestern University bioethicist researching unethical medical treatment of people with intersex conditions; Chicago
Rep. Keith Ellison, Democratic congressman bridging Muslim and Christian interests; Minneapolis
Faith Gemmill, founder of Resisting Environmental Destruction on Indigenous Lands; Fairbanks, Alaska
Jim Gerritsen, president of Organic Seed Growers and Trade Association and lead plaintiff in lawsuit against Monsanto; Bridgewater, Maine
David Korten, economist, author, political activist and co-founder of YES! Magazine; Bainbridge Island, Wash.
Gary Paul Nabhan, ethnobotanist and author who has been called "the father of the local food movement"; Patagonia, Ariz.
Parker J. Palmer, public intellectual and author of Healing the Heart of Democracy; Madison, Wis.
Dr. Tabatha Parker, naturopathic doctor and co-founder of Natural Doctors International, a nonprofit (with its U.S. headquarters in Malibu, Calif.) that bridges Western medicine and indigenous healing worldwide; Ometepe, Nicaragua
Tom Philpott, Mother Jones food and politics analyst; Valle Crucis, N.C.
Carl Safina, marine ecologist and author of Song for the Blue Ocean; Cold Spring Harbor, N.Y.
Humira Saqeb, founder of feminist magazine Negah-e-Zan; Afghanistan
Debbie Sease, national campaign director, Sierra Club; Washington, D.C.
David Simon, television writer and producer; Baltimore, Md.
Dr. Monica Vela, University of Chicago instructor exploring how income, sexuality and culture affect health care; Evanston, Ill.
John Warner, green chemistry pioneer; Wilmington, Mass.
Orayne Williams, formerly homeless teen who founded Progressive People Movement Inc. to help other at-risk teens; Brooklyn, N.Y.
Peter Williams, founder of Architecture for Health in Vulnerable Environments; New York
"Each year, Utne Reader's staff selects a group of notable visionaries who possess an inspiring combination of imagination, determination and energy," says David Schimke, Utne Reader's editor in chief. "These are people who don't just think out loud, but who walk their talk on a daily basis."
Online extras for each honoree will be available Oct. 17 at Utne.com/Visionaries.
About Utne Reader
Since 1984, Utne Reader (http://www.Utne.com) has been the vanguard of the alternative press, celebrating independent news and views from across the political spectrum. With ideas, trends and solutions you won't see in the mainstream media for months or even years, those who want to know what's happening next, read Utne Reader first.
About Ogden Publications Inc.
Ogden Publications Inc. (http://www.OgdenPubs.com) is the leading information resource serving the sustainable living, rural lifestyle, farm memorabilia and classic motorcycle communities. Key brands include Mother Earth News, Natural Home & Garden, Utne Reader, Capper's and Grit. Ogden Publications also produces environmentally friendly housewares through Natural Home Products LLC, and provides insurance and financial services through its Capper's Insurance Service division.
# # #