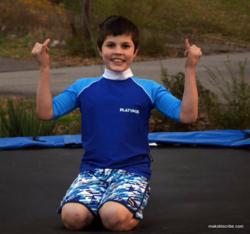 We're still on the right track with our goal to help protect children from cancer
Sydney, Australia (PRWEB) April 29, 2013
On 11 April 2013, Platypus Australia's fashionable UV protective beachwear for kids was highly praised at the popular blog network for parents, Makobi Scribe. The glowing review was given by Kelly, one of the main blog writers, who received and tested a boy's trial pack from the Australian sun safe swimwear company. The article focused on Platypus Australia's ability to incorporate trendy designs, in a way kids would love, without compromising on the UPF50+ sun protection.
With instances of melanoma increasing in children across the globe, a common worry amongst parents is how to help keep their kids safe from the risks of cancer. Although the solution of applying sunscreen and covering up sounds easy, the task becomes more difficult as the protective sunscreen washes off and clothing gets removed as the day goes on.
What some parents may not know is that Platypus Australia has an easy and comfortable solution for them in their fashionable UV protective beachwear for kids. To help further educate parents, the leading children's swimwear company provided a boy's trial pack to Makobi Scribe, a popular blog network aimed at providing the best tips and advice for families.
The results of the trial pack provided to Kelly, one of the main writers on the blog network, ended with a rave review for Platypus Australia. The blogger tested "the most handsome outfit from Platypus Australia that included a hat, the boy's youth sun shirt and the zig zag board shorts." She further acclaimed the style of the pieces by saying her son was "not interested in the fact that the swimwear was UV protective...he just likes the way it looks and feels."
The Makobi Scribe blogger also commented that her son "Henry loves his clothing and it looks great and it is constructed extremely well." Platypus Australia founder and expert in children's UV protective swimwear Ms. Karel Wheen remarks on the blogger's high praise, "One of the main points of contention parents have in protecting their children from the ill effects of sun exposure is getting them to keep their gear on."
Ms. Wheen continues, "That's just not a problem for our customers. With our fashionable range of co-ordinated pieces, kids wear the pieces all day long because they clearly love the look and the feel of them."
Ms. Wheen's company is no stranger to commendation, receiving several similar positive reviews over the past few months on both the renowned Kidspot and Family Capers websites. "Families who try our products are consistently giving us the thumbs-up. Getting that kind of great feedback from real parents lets us know we're still on the right track with our goal to help protect children from cancer."
Once again, Platypus Australia receives high acclaim for their great use of fashion, comfort and UV protection for children. Their most recent review appeared earlier in April on the Makobi Scribe blog site where key writer Kelly closes her article with admiration, "We are crazy about the UV clothing we received and would recommend it to everyone for its style and protection that are wrapped up into one."
To view Platypus Australia's extensive range of fashionable UV protective beachwear for kids, toddlers and babies click here. The Australian company's website includes an assortment of caps and bucket hats, rash shirts, sun shirts, swim shirts, board shorts and skirts, and swimsuits which meet the Australian Radiation Protection and Nuclear Safety Agency (ARPANSA) and British Standard for Ultraviolet Radiation's strict UPF50+ rating criteria.
About Platypus Australia
Since their beginnings in 1996, Platypus Australia's quality children's UV protective swimwear has spread to the UK, Europe, Asia and USA. They're export-ready garments are internationally acclaimed and in high demand since the effects of harsh ultraviolet radiation are now well known.
Platypus Australia's beachwear gives parents peace of mind knowing their children are safe, while having fun in the sun. For more information regarding their renowned product range, visit http://www.platypusaustralia.com