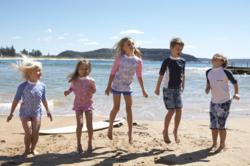 Our number one priority has always been to help parents protect their children, so being chosen as a leader in fashion as well, is a compliment we really take to heart
Sydney, NSW (PRWEB) June 07, 2013
In late May, Platypus Australia became a 'Best Children's Swimwear' nominee for the 2013 Kids Fashion Review 'Style Awards'. The kid's UV protective swimsuit company is recognized by parents around the world as being leaders in providing the highest level of UPF50+ defence as part of their trendy swimwear range. With voting polls now open, Platypus founder Ms. Karel Wheen says of the nomination, "To be chosen by parents as one of the best children's swimwear labels of 2013 is a real honour."
Combining the necessity to shield children against the ill effects of sun exposure, while convincing them to keep all pieces of their beachwear on, is a well known challenge for most parents. Although easy in theory, the solution of covering up kids, as well as continuously applying coats of sunscreen, is much harder in reality.
Since 1996, Platypus Australia has been helping parents protect their children from the sun by producing on-trend children's swimwear with the highest available rating of UPF50+, which blocks out more than 97.5% of the UV radiation. The inbuilt defence combined with their fashionable designs has seen the company grow in popularity around the globe.
Ms. Wheen says she recognized that one of the major issues is keeping little ones covered up while outdoors, "All they want is to be comfortable and wear fashionable swimsuits like their parents. If they like what they're wearing, they'll keep it on. It's that simple."
The owner's solution was an easy one: create comfy and trendy kid's UV protective swimsuits. Then not only will the "youngsters want to keep their beachwear on, they'll also be protected by it, too" says Ms. Wheen. It's this fashion-meets-safety consciousness that's made Platypus Australia such a favourite amongst parents, who openly commend the company in popular online family forums.
More recently, these marks of distinction have been felt by Platypus by being nominated as the "Best Children's Swimwear" label at the Kids Fashion Review 'Style Awards 2013'. The polls opened on Monday, 3 June at the Kids Fashion Review website, where parents can place their votes in various fashion categories for children.
Platypus Australia continue to push their mission forward: to help protect kid's with their UV protective swimsuits and reinforcing the importance of applying sunscreen to prevent illnesses associated with sun exposure. The company's ability to interweave sun protection into their on-trend, fashionable beachwear has resulted in being nominated as one of the "Best Children's Swimwear" labels for this year's 'Style Awards' at Kids Fashion Review.
"Our number one priority has always been to help parents protect their children, so being chosen as a leader in fashion as well, is a compliment we really take to heart" says Ms. Wheen.
To vote for Platypus Australia as the "Best Children's Swimear" label, click here. Or to view their assortment of UPF50+ beachwear such as swimsuits, rash shirts, caps and bucket hats, sun shirts, board shorts and skirts, and swim shirts, all of which meet the Australian Radiation Protection and Nuclear Safety Agency (ARPANSA) and British Standard for Ultraviolet Radiation's highest rating criteria, visit http://www.platypusaustralia.com.
About Platypus Australia
Since their beginnings in 1996, Platypus Australia's quality children's UV protective swimwear has spread to the UK, Europe, Asia and USA. They're export-ready garments are internationally acclaimed and in high demand since the effects of harsh ultraviolet radiation are now well known.
Platypus Australia's beachwear gives parents peace of mind knowing their children are safe, while having fun in the sun. For more information regarding their renowned product range, visit http://www.platypusaustralia.com.