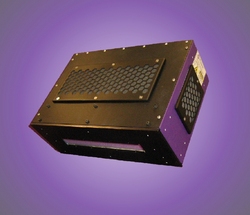 FireJet is a true game changer for UV-LED curing in UV Inkjet applications
Hillsboro, OR (PRWEB) May 12, 2010
After building a global leadership position developing mercury free, clean energy UV-LED curing solutions for an array of industrial and commercial curing processes, Phoseon Technology will introduce two significant new product families in Summer 2010 that will provide breakthrough capability and performance that will help accelerate the adoption of UV-LED curing in many UV printing applications.
The RX FireJet is a high capability air cooled product family aimed primarily at UV Inkjet wide format systems and is capable of curing at the highest speeds for small, medium and grand format digital printing systems. It's also ideal for many large single pass UV inkjet applications. RX FireJet is available in curing lengths of 75mm, 150mm and 225mm.
"FireJet is a true game changer for UV-LED curing in UV Inkjet applications" commented Bill Cortelyou, Phoseon President & CEO. "While water cooled UV-LED systems have proved themselves capable there has been a traditional concern about the use of water cooling in moving carriage systems. FireJet is the first UV-LED curing product that offers a true "drop in" UV-LED replacement for traditional mercury lamps with minimal risk and minimal engineering changes."
RX FirePower is a water cooled technology platform and product family specifically designed to address the needs of UV-LED curing in the printing press market where total UV power delivered is a key parameter based on high speed printing requirements. With a range of curing lengths available for all major press sizes the FirePower family offers industry leading UV curing power in a compact mechanical package and an intelligent and innovative electronic control capability. FirePower will be tailored both for narrow web presses and wide web sheetfed presses.
"The successful application of UV-LED systems to printing presses requires that the UV-LED system supplier overcome several key technical, reliability and cost challenges" according to Tom Molamphy, Vice President, Sales & Marketing at Phoseon Technology. "Phoseon is uniquely positioned to leverage our experience, engineering capability and supply chain to overcome these challenges and we plan to work closely with our worldwide OEM partners to provide volume product availability by the end of 2010."
To see for yourself how these products can change the UV Printing experience please visit
http://www.phoseon.com or join us this summer at the following trade events:
IPEX 2010, Birmingham UK, May 18th-25th, Hall 6, Booth 06-D531
RadTech UV&EB 2010, Baltimore Convention Center, Baltimore MD, USA, May 24th-26th, Booth 119
3rd Annual IMI Digital Printing Press Conference, Kissimmee FL, USA, June 9th-11th
FESPA Digital, Messe Munchen, Munich Germany, June 22nd-28th Booth B3-174
About Phoseon Technology Inc.
Phoseon Technology is the world leader in clean energy UV LED curing solutions for industrial and commercial applications. Phoseon's products enable faster, cleaner, and more efficient UV curing of photopolymers in adhesives, inks, and coatings. Founded in 2002, Phoseon is a US based corporation with worldwide sales and support and is headquartered in Hillsboro, Oregon. For more information please visit http://www.phoseon.com.
# # #