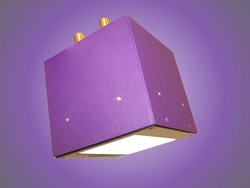 Despite the current economic climate we continue to see strong growth for our products and technology
Hillsboro, Oregon (PRWEB) February 4, 2009
The 18th IMI Inkjet Conference in Foster City, CA Feb.4th-6th sees the official unveiling of the first products in two new product families based on Phoseon's SLM™ technology for UV LED based curing systems.
The RX FireFlex is designed as a scalable "high power" UV LED curing solution aimed primarily at high performance/high speed single pass UV inkjet applications but with utility in a wide variety of web/conveyor based UV curing applications. The initial product from the RX Fireflex family has an emitting area of 50mm x 75mm and is available in peak irradiances of 4W/cm2 or 8W/cm2 as measured at system output glass - which correlates to 36W/cm2 and 72W/cm2 respectively at the LED level. The RX FireFlex architecture is designed to allow the systems to be scalable in 75mm increments to as much as 2m in length with a variety of peak irradiance and total UV power specifications based on customer and application needs.
The RX FireEdge is designed as a simple, low cost, small form factor UV LED system for "pinning" applications where the requirement is to "freeze" the ink jet drop without fully curing. The first product of this family has a native emitting area of 75mm x 5mm but systems can be scaled linearly in 75mm increments without affecting pinning uniformity.
Both systems are available in production quantities for immediate order and are already shipping in volume to key customers.
"Despite the current economic climate we continue to see strong growth for our products and technology" commented Bill Cortelyou, CEO and President of Phoseon Technology. "The formal introduction of our RX FireEdge and RX Fireflex products is another step in widening the application base for our UV-LED based curing products - and is a result of our continuing commitment to aggressive R&D and product development".
The RX FireFlex and RX FireEdge products can be seen at the IMI Inkjet Emerging Technology Symposium (Feb. 2nd-3rd) and the 18th IMI Inkjet Conference (Feb. 4th-6th) at the Crowne Plaza Hotel Mid-Peninsula, Foster City, CA.
###