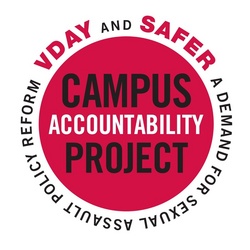 Campus Accountability Project: A Demand for Sexual Assault Policy Reform.
New York, NY (Vocus) December 2, 2009
V-Day and Students Active for Ending Rape (SAFER) are proud to announce the launch of their joint "Campus Accountability Project: A Demand for Sexual Assault Policy Reform." For the past ten years, both V-Day and SAFER have been helping college and university students organize to fight sexual violence and challenge rape culture on their campuses. By combining forces on the multi-phase Campus Accountability Project (CAP), both organizations hope to empower more students to take an active role in changing the ways in which their campuses prevent and respond to sexual assault, and spark a nationwide dialogue on what schools should be doing to properly educate and protect their students.
Sexual assault on college campuses is a pressing issue. One in four women will survive rape or attempted rape during their college career and rape is the most common violent crime committed on college campuses. Colleges and universities have the power to change these statistics and foster healthy sexual attitudes on campus by implementing comprehensive and easily accessible sexual assault policies and prevention programs. V-Day and SAFER believe that students have the power to hold their schools accountable for these key provisions and to fight for and win reforms when necessary.
The CAP kicks off this winter as V-Day and SAFER invite college students across the country to become part of the movement by researching their school's current sexual assault policy and providing feedback. Students can register for the V-Day/Safer Campus Accountability Project Database where they will be guided through a thorough policy analysis process, answering questions meant to assess the policy's thoroughness, inclusivity, and adherence to federal law. Once completed, these analyses will be reviewed by staff and submitted to the Database, creating a powerful tool for student activists and administrators to see how their schools match up to peer institutions and what improvements can be made.
After the first batch of policies have been submitted, SAFER trainers will be available for students who want to make changes on their campus. During the 2010–2011 school year, V-Day and SAFER will review the compiled information to assess the state of the nation's campus sexual assault policy's and establish a thorough list of key criteria to effectively prevent, track and respond to sexual assaults on college campuses. We hope to eventually integrate our database into existing college ranking systems, so students and parents have easy access to the information.
Please visit http://safercampus.org/campus-accountability-project or http://www.vday.org/cap for more information.
About V-Day
V-Day is a global activist movement shattering taboos, raising millions and transforming communities to end violence against women and girls. Annually, activists stage thousands of benefit productions of Founder/playwright Eve Ensler's The Vagina Monologues and other works. Working at the intersection of art, social action, and politics, V-Day empowers grassroots activists to become leaders, turning pain to power. To date, the V-Day movement has raised over $70 million, crafted international educational, media and PSA campaigns, reopened shelters, and funded over 11,000 community-based anti-violence programs and safe houses in Democratic Republic Of Congo, Egypt, Haiti, Iraq, Kenya, Pakistan, and South Dakota. V-Day was named one of Worth magazine's "100 Best Charities" in 2001 and Marie Claire's "Top Ten Charities" in 2006. The 'V' in V-Day stands for Victory, Valentine and Vagina. http://www.vday.org
About SAFER
Started by Columbia University students in 2000, Students Active for Ending Rape (SAFER) is the only organization that fights sexual violence and rape culture by empowering student-led campaigns to reform college sexual assault policies. An all-volunteer collective, SAFER facilitates student organizing through a comprehensive training manual; in-person workshops and trainings; free follow-up mentoring; our Campus Sexual Assault Policies Database; and a growing online resource library and network for student organizers. Committed to social change through community mobilization, SAFER arms students with the tools needed to mobilize communities and make lasting change on campus. http://www.safercampus.org
Susan Swan
Managing Director
V-Day
(917) 865-6603
Sarah Martino
Communications Coordinator
Students Active for Ending Rape
(347) 293-0953
###