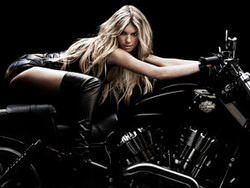 It stretches the very definition of what it means to be a Harley-Davidson motorcycle.
Milwaukee, WI (PRWEB) December 19, 2008
Hundreds turned out in New York City last week as Harley-Davidson unveiled the 2009 V-Rod Muscle - a contemporary, urban-inspired motorcycle that exudes style and performance. Supermodel Marisa Miller, featured in the recent V-Rod Muscle ad campaign, hosted the launch party at which emerging band Shiny Toy Guns performed.
The launch party kicked off with the introduction of the V-Rod Muscle and also served as the official invitation for the public to check out the motorcycle as part of a public gallery on display through January at 210 Front Street in Manhattan's South Street Seaport. The space is open Thursdays through Sundays from noon until 8 PM.
This newest and boldest addition to Harley-Davidson's V-Rod family of liquid-cooled motorcycles came alive through raw steel, videos, images and stories. In addition, the gallery features a collection of bikes from Harley-Davidson that represent how one of the most recognized brands in America is using innovative design to reach new and younger riders.
The new V-Rod Muscle boasts a powerfully sculpted physique that when combined with innovative details such as reflector optic lighting and gaping air scoops, radiates a contemporary sense of style. The bike's long, low profile and super-wide rear tire summon the race track, while the free-revving performance of the liquid-cooled 1250cc Revolution V-Twin engine co-developed with Porsche give it the sophistication and response performance-minded riders appreciate.
"Muscle stands out in a crowd of copies and generic motorcycle profiles," said Mark-Hans Richer, senior vice president and chief marketing officer for Harley-Davidson. "It stretches the very definition of what it means to be a Harley-Davidson motorcycle."
Other elements that give Muscle its urban, contemporary look include a new stylish instrument panel, chopped and sculpted tail section, a new deep seat, LED turn signals integrated into the mirror stems, trimmed front fender that's blacked out behind satin-finished inverted forks and a meaty double barrel exhaust.
According to Richer, Muscle is all about the sophisticated thrill seeker, and attracting non-traditional riders to Harley-Davidson. "When we set out to design Muscle, we wanted a bike that would be recognized as a Harley with aggressive styling and refinement," he said.
The V-Rod Muscle represents yet another move by Harley-Davidson to reach new riders and enthusiasts. Earlier this year, the Motor Company introduced the Dark Custom movement, which includes a collection of raw and stripped-down bikes for a new generation of riders. The newest of that collection is the Softail Cross Bones, a rough and raw bike with post-war-era styling. Other bikes such as the Softail Rocker are giving more experienced riders a chopper-style option to fuel their need to customize while the XR1200, a nod to the dirt-track racers of the 70s, is a hit with European enthusiasts and is now available in the U.S.
Muscle joins two other performance motorcycles in its 2009 V-Rod family--the VRSCAW V-Rod and VRSCDX Night Rod Special. Each features the Revolution V-Twin engine, a 240 mm rear tire, high-performance Brembo triple-disc brakes and a race-bred clutch with "slipper" action that helps ease drive train effort during downshifting.
Muscle is now available at Harley-Davidson dealerships nationwide. It's sold in Vivid Black, Brilliant Silver, Dark Blue Denim and Red Hot Sunglo. For more information on V-Rod Muscle or other Harley-Davidson motorcycles, visit http://www.harley-davidson.com.
Harley-Davidson Motor Company, the only major U.S.-based motorcycle manufacturer, produces heavyweight motorcycles and a complete line of motorcycle parts, accessories and general merchandise. For more information, visit Harley-Davidson's Web site at http://www.harley-davidson.com.
###