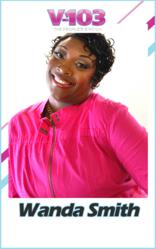 Jim Ellis has a great tradition of integrity and respect in the community - for over forty years
Atlanta, GA (PRWEB) November 30, 2012
Atlanta Chevy Dealership Jim Ellis Chevrolet announced today that Wanda Smith of V103's "Frank & Wanda" morning show will be endorsing the dealership in 2013. V103 bills itself as the "1 radio station on the planet" with consistent #1 ratings. The "Frank & Wanda Show" is considered a pillar of the station's success. Wanda will be endorsing Jim Ellis Chevrolet, winner of the coveted "Dealer of the Year" award by General Motors in 2011. The award signifies that Jim Ellis Chevrolet is in the top fifty of over three thousand Chevy dealers across the nation.
"I'm very happy to be working with Jim Ellis Chevrolet", said Ms. Smith, known simply as Wanda to her fans. "Jim Ellis has a great tradition of integrity and respect in the community - for over forty years - and it is my pleasure to be working with them." Ms. Smith drives a 2013 Silverado 1500 and is a Chevy enthusiast. "One of the best parts of the endorsement with Jim Ellis Chevrolet is that they will be letting me drive all of the great Chevys and different times and I'll be able to tell our listeners all about them!"
"We are very pleased to have Wanda on board," indicated Mark Frost, VP of Operations for Jim Ellis GM Brands. "Her vivacious personality and high-energy enthusiasm are a great fit with our dealership." In addition to on-air endorsements, Jim Ellis Chevrolet will also sponsor the V103 entertainment report.
Also, a large variety of special community minded events are planned throughout the year, including some with popular Atlanta personality Big Block of Block Entertainment. "Wanda is a well-known icon in the Atlanta and Georgia entertainment community. We plan on having a lot of fun and yes, selling a few Chevrolets!"
About Jim Ellis Chevrolet
Jim Ellis Chevy in Atlanta, GA is an Atlanta Chevrolet Dealership providing new and used Chevy sales and service to the metro Atlanta area and beyond. Jim Ellis Automotive, established in 1971, has been active in community and youth sports programs since its inception. For a complete line of inventory, visit them online at http://www.jimellischevy.com or visit the dealership in Atlanta.
About Chevrolet
Founded in 1911 in Detroit, Chevrolet is now one of the world's largest car brands, doing business in more than 140 countries and selling more than 4 million cars and trucks a year. Chevrolet provides customers with fuel-efficient vehicles that feature spirited performance, expressive design and high quality. More information on Chevrolet models can be found at http://www.chevrolet.com.