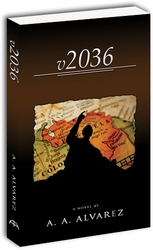 By introducing historical events in the fictional world of v2036, A. A. Alvarez has created an engaging novel that blurs the line that separates fact from fiction.
Miami, FL (PRWEB) April 11, 2010
A. A. Alvarez returns with his new title, v2036, a political novel set in Venezuela where presidential elections, coup d'états, military conflicts, and social uprisings put the Bolivarian Republic under the magnifying glass. Driven by iconic characters that push the boundaries of fiction, v2036 reopens many of the wounds that Venezuela has sustained during its rocky path to 21st Century Socialism.
On April 11, 2002, nearly one million citizens took to the streets of Caracas, Venezuela, and marched toward the gates of the White Palace to demand the resignation of President Hugo Chávez. By the end of the day, after losing the full support of the military, the Venezuelan leader was taken under custody while his very own generals decided his fate. In the meantime, Pedro Carmona, the president of the Venezuelan Confederation of Chambers of Commerce (Fedecámaras), swore himself in as President of the Bolivarian Republic of Venezuela, and in a matter of minutes, reverted to the pre-Chávez Constitution, dissolved the National Assembly, and changed the official name of the country back to what it was before the ousted leader decided to amend it. Three days later, Hugo Chávez was back in his office, Pedro Carmona was nowhere to be found, the number of civilian casualties was still uncertain, and the Armed Forces had no clue as to who was actually in charge.
Still to this day, eight years and five vice-presidents later, very little is known about what really happened on April 11 of 2002, a day when dozens of civilians lost their lives as pro-government and anti-government groups clashed in the vicinity of the Presidential Palace. Was it an elaborate plot to oust the country's president or was it a self-imposed coup to finish off the opposition? We will never know as no conclusive investigation was ever conducted and the commanding officers of the Armed Forces have been reshuffled multiple times since then. What is certain is that Hugo Chávez is still President of the Bolivarian Republic of Venezuela and that he plans to run for reelection in 2012.
Does this mean that nothing really changed after April 11?
Hardly. The people of Venezuela have now adapted to living in chaos, and back in 2002, they never thought they would.
By introducing historical events such as these in the fictional world of v2036, A. A. Alvarez has created an engaging novel that blurs the line that separates fact from fiction. In v2036, we follow the lives of Eleazar Maso (a military leader), Bernardo Acosta (a political activist), and Carlos Rodríguez (a scholar in exile) as we travel through time to the Venezuela that was, the one that is, and the one it might become in the not-so-distant future.
v2036, to be released in 2010, will be available worldwide through all major online retailers including Amazon.com, Barnes & Noble, The Book Depository, and many more. To pre-order it at local bookstores, ask for ISBN 978-960-92785-0-8.
A. A. Alvarez was born and raised in Caracas, Venezuela, and left his country after witnessing several revolts, a major economic disaster, and two coup attempts. He is the author of Chronicles of a Nomad: Memoirs of an Immigrant, a novel that serves as a preamble to v2036.
For excerpts, updates, and further information, visit the author's official website at aaalvarez.com