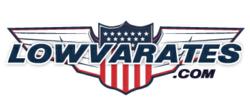 Lehi, UT (PRWEB) June 15, 2011
Facebook users can now enter to win a free iPod touch every month through the LowVARates.com monthly iPod touch contest.
LowVARates will draw a winner on the first weekday of each month and ship them a free iPod touch. The contest is simple to enter; facebook users need to go to LowVARates ipod touch application (click here to go to facebook app) and submit your name and email address.
The monthly contest winners will be notified via email and will have the iPod touch shipped to their home or any other preferably address.
The owner of LowVARates, Eric Kandell, has been working with military vetermans for the past 15 years by offering low VA mortgage rates and created the contest as a fun way to give back to the men and women of the U.S. Armed Forces.
"It has been a great honor to work with the military for 15 years," Kandell said. "The iPod touch contest is designed for anyone, but most of our followers and fans are military personnel or proud supporters of the U.S. military and we always try and create promotions for our troops."
The company currently provides weekly contests on its facebook page as a part of the "Friday Give Away" promotions. Each week LowVARates.com gives away cash or gift cards to participating facebook fans.
Over the past six months, LowVARates.com has given away hundreds to thousands of dollars in cash and prizes with its weekly give away contests.
Facebook and social media have become a major part of LowVARates.com strategy to stay in touch with military families. The facebook page provides pertinent VA home loan information for military families, weekly and monthly contests, access to various military blog posts and forums about U.S. military topics and issues.
"We have a very large following on facebook and twitter and want to keep our contests and promotions valuable to our current and new users," Kandell said. "The iPod touch give away is definitely one of the best promotions we have ever run and hope that current and new users will enjoy entering our ongoing contests."
LowVARates.com specializes in providing VA home loans for veterans and military families. With interest rates at an all-time low and 100% financing available to veterans, the VA home loan is the currently the best home loan on the market.
Thousands of troops sacrifice their lives everyday across the world and are fighting to protect our freedoms. The service men and women deserve more benefits and discounts. For over 20 years LowVARates.com has helped veterans tap into a small portion of their well-deserved benefits through the VA home loan program.
"Our veterans do such much for this great nation that we can never repay them for the selfless service they provide," Kandell said. "Part of the reason we provide these contests is to reach out to the troops and U.S. military supporters with some fun contests and provide chances to win cash and various prizes."
To sign up for the LowVARates.com iPod touch giveaway visit: http://www.facebook.com/home.php#!/lowvarates?sk=app_228983167112580
ABOUT LOWVARATES.COM
For the past 20 years LowVARates.com has been dedicated to serving veteran homeowners. We specialize in providing low VA loan rates to qualified veterans for mortgage purchases and refinances. These loans provide lower interest rates and monthly payments than other traditional loans.
VA loans are currently the only program left that allows no-money-down loans providing a secure mortgage option guaranteed by the Federal Government. Our professional staff and loan officers will assist you to lock in low interest rates and take advantage of the unique opportunity provided through VA loans.
###