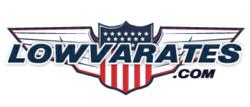 Our Facebook monthly contests are becoming one of the most popular parts of our social media.
Lehi, UT (PRWEB) March 08, 2012
In February LowVARates gave away a free iPod to the winner of the company's monthly give away contest.
The winner of the iPod, April B., signed up for the contest early in the month and was shocked to find out she was the winner.
"This was the first time I've entered the monthly contest so I was very surprised and obviously excited to win the iPod," April said.
April is not planning on being selfish with her latest winnings, but is going to surprise a family member with a nice birthday gift.
"My husband and I want to give the iPod to my mother-in-law for her 50th birthday," April said. "She has wanted an iPod forever and this should be a really unexpected prize for her."
Every month LowVARates.com provides a contest on Facebook to give away a large prize. The company targets military and veteran families, but anyone can enter the contest. The winners are randomly selected every month and previous winners are still eligible for the prize.
Owner of LowVARates.com, Eric Kandell, wants to continue running the monthly Facebook contests and ensure the quality of prizes is good enough to entice additional followers.
"Our Facebook monthly contests are becoming one of the most popular parts of our social media," Kandell said. "We hope our social media fan base will keep growing as we continue to run the contests and giving away valuable prizes."
The contests are very simple to enter and only require a name and valid email to sign up. The winner is emailed and is given 48 hours to respond or another entry is randomly selected.
The company also runs a weekly "Friday Give away" contest that gives away cash and other prizes typically around $25. Followers and fans can sign up for the contest every Friday and the winner is selected the following Monday.
"We want to make our Facebook page as interactive as we possibly can," Kandell said. "The weekly and monthly contests creates a fun atmosphere and allow us to have regular contact with our fan base."
Owner of LowVARates.com, Eric Kandell, has tried to use Facebook and other social media tools to reach out to veterans and increase interaction with potential military homeowners.
LowVARates.com has given over $6,000 of cash and prizes to followers entering the monthly and weekly giveaways. The weekly and monthly prizes have included: tablet, iPod, cash, restaurant gift cards, shopping gift cards, movie tickets, home improvement gift cards and many other rewards.
In March the company is running two monthly contests. The first contest will be just for military families. The second contest will be open to any LowVARates Facebook fan.
"We have a really nice surprise for our March monthly contest and urge our followers and fans to come to our Facebook page to join," Kandell said. "This is the first time we will be offering two different contests and I think our fans will be very excited about the prizes."
To enter the LowVARates.com March contest please visit: http://www.facebook.com/lowvarates
ABOUT LOWVARATES.COM
For the past 20 years LowVARates.com has been dedicated to serving veteran homeowners. We specialize in providing VA mortgage loans to qualified veterans for mortgage purchases and refinances. These loans provide lower interest rates and monthly payments than other traditional loans.
VA loans are currently the only program left that allows no-money-down loans providing a secure mortgage option guaranteed by the Federal Government. Our professional staff and loan officers will assist you to lock in low interest rates and take advantage of the unique opportunity provided through VA loans.