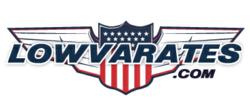 We know our fans are going to love this contest and hope the free iPad is a huge motivator to get a large number of photos submitted.
Lehi, UT (PRWEB) May 08, 2012
LowVARates.com is running a new Facebook contest allowing fans to take interesting picture with the LowVARates logo and submit the photo to the "Where in the World is LowVARates" contest.
The person selected by the LowVARates Facebook fans for June will receive a free ipad. The prizes for the contest will usually be around $200 - $300 value.
LowVARates Facebook fans can simply enter the contest by clicking on the "Where in the World is LowVARates" app on the company's wall.
Every month the company will narrow the contest down to three unique photos and then will have the Facebook fans vote for the winner. The contest will officially kick off on Monday May 7th and the winner will be selected Wednesday June 13th.
Owner of LowVARates.com, Eric Kandell, has focused on providing a number of Facebook contests to give the social media fans a nice incentive to follow the company.
"We currently are running four Facebook contests and give away hundreds of dollars of prize every month," Kandell said. "Our goal is to reward all of our fans with some sort of prize and make people want to come back to our Facebook page."
Anyone can enter the contest in five simple steps:
1. Go to LowVARates.com Facebook page and click on the app entitled, "Where in the world is LowVARates"
2. Download and print the LowVARates logo.
3. Take a photo of yourself with the logo somewhere interesting.
4. Post the photo on Facebook. Simple upload the photo to your Facebook page and tag LowVARates
5. Enter the form that asks for your name and email.
"We know our fans are going to love this contest and hope the free iPad is a huge motivator to get a large number of photos submitted," Kandell said. "Our Facebook community has really taken off the past year and we hope we can reach out to more fans with this new contest."
LowVARates also gives away cash prizes every Friday to Facebook fans. The contest takes less than a minute to enter and every Monday a winner is selected.
The company also does monthly contests where fans are only required to submit their name and email address. In March monthly contest, LowVARates gave away an iPad and in the April monthly contest they gave away a Kindle Fire.
The company also runs a monthly VA loan feedback contest for a free gift card. After a customer refinances their existing VA home loan they are asked to fill out a short feedback survey. Every month the company selects a winner and mails them a gift card.
To enter any of LowVARates.com facebook contests visit: http://www.facebook.com/lowvarates
About LowVARates.com
For the past 20 years LowVARates.com has been dedicated to serving veteran homeowners. We specialize in providing VA loans to qualified veterans for mortgage purchases and refinances. These loans provide lower interest rates and monthly payments than other traditional loans.
VA loans are currently the only program left that allows no-money-down loans providing a secure mortgage option guaranteed by the Federal Government. Our professional staff and loan officers will assist you to lock in low interest rates and take advantage of the unique opportunity provided through VA loans.