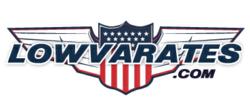 Lehi, UT (PRWEB) October 18, 2011
LowVARates.com a Division of Flagship Financial is one of only a few lenders in the nation allowing veterans home owners to refinance a VA home loan without an appraisal, AVM (Automated Value Method) or FICO score requirement.
Other lenders are tying down potential refinances by requiring costly appraisals and hefty credit score requirements making it nearly impossible for borrowers with bad credit or lost home equity to refinance.
LowVARates.com has relationships with lenders that are willing and able to refinance existing VA home loans without any of these requirements.*
"We have a very unique situation where we are basically able to provide a VA refinance to any veteran with a VA home loan," Owner of LowVARates.com, Eric Kandell said. "With the rates as low as they are right now we have helped hundreds to thousands of veterans with subpar credit get locked in at lower interest rates."
Many borrowers have even tried to refinance with their current lenders, but are still unable to meet the FICO requirements and forced to stay at higher rates in a poor economy.
Home appraisals have always been a standard procedure for veterans looking to purchase or refinance their home. However, LowVARates.com does not require an appraisal to refinance an existing VA loan saving the borrower typically about $400-$500.
With the unique ability to refinance loans with no FICO score or appraisal, LowVARates.com is required to lock loans in a pool forcing many of these loans to wait to have their interest rate locked.
Because the loans are locked in a pool, LowVARates.com is maneuvering a massive amount of loans through a very small window. Because the rates are so low, thousands of people want to lower their rate and save money. When the lender pool is filled LowVARates.com is unable to lock new loans until the new pool of loans is funded.
The consequence is that many borrowers may have intended to get a certain rate at a certain cost, but because the pool was full, the borrower is pushed back and unable to lock in the interest rate. This can cause the interest rates and cost to change on a VA streamline before the loan is processed.
"Most of our current clients are unable to refinance through other outlets and we are doing everything we can to help them," Kandell said. "We are attempting to funnel through as many loans as we possibly can sometimes causing our pool of loans to be filled."
However, potential borrowers are never tied into doing a loan. LowVARates.com compensation on the loan does not change regardless of the costs or interest rates. This puts LowVARates.com in a great situation to advocate for borrowers to help every potential borrower get the best possible interest rate.
"Potential borrowers should understand they still have control over what they want to do." Kandell said. "When lenders come back and offer a different rate they have the right to take the current rate offered or wait the market out to see if the rates drop again."
Borrowers not locking their interest rates do run the risk the market will change and the rates can rise. There is no way to predict what the interest rates will be the next day, week or month. Interest rates can be very volatile and there are never any guarantees for borrowers that have not locked their loan.
For those borrowers that find themselves in this situation, the increase in closing costs is usually around $1,000 -$3,000 and those costs are able to be rolled into the loan typically only increasing the loan $3- $7 per month. LowVARates.com guarantees it will provide the best interest rate available to borrowers looking to refinance.
With this situation LowVARates.com remains one of a very small number of lenders that is able to help veterans with lower FICO scores and refinances without an appraisal. Thousands of veterans are finally able to lower their rate and save hundreds of dollars every month.
The current rates for a 30 year fixed loan are around 3.75% right now and continue to hit record lows. For veterans stuck in higher interest rates now is the time to refinance and save some cash.

Though LowVARates does not require a minimum FICO score, they will look at the overall ability of the Veteran to make timely mortgage payments and may decide to not offer a loan if someone has had 30 day late mortgage payments in the recent past, has had a short sale or foreclosures or other extreme credit issues. The score if not needed, but the history tells a lot about the home owners ability to make their new mortgage payments.
** Flagship Financial Group, LLC is licensed as: NMLS No. 3133; Alaska Mortgagee Licensee #100278; Arizona Banker 0908193; Department of Corporations under the California Residential Mortgage Lending act Lender 413 0854; Florida Correspondent Lender CL 0703188; Georgia Mortgage Broker Licensee 17297 - 3130 W Maple Loop Dr, #200, Lehi, UT 84043 (GA); Illinois Residential Mortgage Licensee MB6760204; Kansas Licensed Mortgage Company, License No. MC.0001780; Maine Mortgage Lender License# SLM9424; Maryland Mortgage Lender 16461, Mississippi Supervised Mortgage Company 308/2006; Nevada Mortgage Broker 1385 - 1349 Galleria Dr., #110, Henderson, NV 89014; New Hampshire Banking Department Mortgage Broker 13439- MBR; North Dakota Money Broker MB101563; Oregon ML-2543; Licensed by the Pennsylvania Department of Banking (PA); Utah Mortgage Loan Company 5493106; Licensed by the Virginia State Corporation Commission, License MC-2980. In certain states in which we do conduct business, certain restrictions and limitations apply. Rates and terms subject to change. If you have any questions or comments regarding this offer please email to lharris@ffgcorporate.com.
ABOUT LOWVARATES.COM
For a combined 20 years or experience LowVARates.com has been dedicated to serving veteran homeowners. We specialize in providing VA loans to qualified veterans for mortgage purchases and refinances. From VA arms to VA jumbo loans, these loans provide lower interest rates and monthly payments than other traditional loans.
VA loans are currently the only program left that allows no-money-down loans providing a secure mortgage option guaranteed by the Federal Government. Our professional staff and loan officers will assist you to lock in low interest rates and take advantage of the unique opportunity provided through VA loans.
# # #