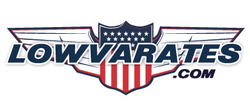 Every veteran and military personnel in the nation deserves home ownership at an affordable price
Lehi, UT (Vocus) April 1, 2010
There are over 2 million members of the U.S. Armed Forces spread throughout the nation. These men and women sacrifice their lives everyday to preserve our freedoms.
For the next 90 days, the military personnel of the U.S. will be honored by LowVARates Military Appreciation Campaign and VA loan promotion.
The promotion begins today April 1st and will run through July 23th. All veterans and military personnel in the specified states can receive deep discounts on home ownership and refinances.
The promotion is designed to help military personnel looking to purchase or refinance a home save thousands on the processing and underwriting fees.
Owner of LowVARates, Eric Kandell, wants to give military personnel a deep discount to help them with their home needs.
"Every veteran and military personnel in the nation deserves home ownership at an affordable price," Kandell said. "This VA loan promotion can save those looking to purchase or refinance thousands of dollars."
The average saving on waiving the processing and underwriting fees is about $1,500 – $2,000. Throughout the 90 days various states can take advantage of the offer.
"We hope a number of troops can take advantage of this promotion," Kandell said. "We want to help as many military families receive some well-deserved benefits."
The 90 day VA home loan and military appreciation promotion will run in the following states listed below:
April 1: 90 Day VA Loan Promotion Kickoff
April 1-5 California
April 6-10 Florida
April 11-15 Tennessee
April 16-20 Texas
April 21-25 Kansas
April 26-30 North Carolina
May 1-5 Georgia
May 6-10 Hawaii
May 11-15 Virginia
May 16-20 Washington
May 21-25 Oregon
May 26-30 Alabama
May 31- June 4 Arizona
June 5- 9 Idaho
June 10-14 New Hampshire
June 15-19 Wisconsin
June 20-24 New Mexico
June 25-29 California
June 30- July 3 Florida
July 4-8 Utah
July 9-13 Texas
July 14-18 Illinois
July 19-23 Georgia
About Lowvarates
For the past 20 years LowVARates.com has been dedicated to serving veteran homeowners. We specialize in providing VA loans to qualified veterans for mortgage purchases and refinances. These loans provide lower interest rates and monthly payments than other traditional loans.
VA loans are currently the only program left that allows no-money-down loans providing a secure mortgage option guaranteed by the Federal Government. Our professional staff and loan officers will assist you to lock in low interest rates and take advantage of the unique opportunity provided through VA loans.
CONTACT:
Craig Walton
Director of Public Relations
pr(at)lowvarates(dot)com
Office: 801-341-7048
Cell: 801-824-1635
# # #