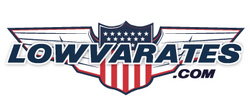 Many lenders will do IRRRL streamlines without putting a limit on the amount
Lehi, Utah (Vocus) May 4, 2010
Qualifying for a VA loan or refinancing an IRRRL streamline on a VA jumbo loan can cause delays and restrictions with certain VA lenders.
VA loan limits are decided on the county level and vary across the nation. Typically veterans can purchase homes up to $417,000 without any loan restrictions or regulations. However, with certain lenders purchases and refinances can be time consuming and difficult.
"Many lenders will do IRRRL streamlines without putting a limit on the amount," Owner of LowVARates.com Eric Kandell said. "However some approved lenders have been giving applicants problems with VA jumbo loan amounts, even on IRRRL streamlines."
Typically veterans and military personnel looking to take advantage of the IRRRL streamline do not fall under the same limitations, but can come across delays in the application process.
Scott Conrad of Virginia understands this from first hand experience. The Conrad family applied for a VA jumbo IRRRL streamline on March 10th with MetLife and was denied after a two month battle.
"We would not have minded nearly as much that the loan amount was disapproved if MetLife had been honest in their business practices," Conrad said. "They kept us hanging on a limb, which dragged on nearly two months."
MetLife maximum loan amount was recently changed to $625,000, but is given flexibility with the IRRRL streamline. The Conrad's spent two frustrating months in the IRRRL application process to ultimately be turned away.
"MetLife officials kept kicking it up their chain of command with approvals," Conrad said. "The amount of the loan only became an issue when it reached the head underwriter after nearly 2 months."
Qualification on loan amount varies from lender to lender and LowVARates.com is dedicated to helping veterans find a qualified lender to assist veterans and military personnel with VA jumbo loans.
There are other lenders currently offering higher loan amounts then MetLife. Wells Fargo, Freedom Mortgage, GMAC, all offer higher loans amounts, but pricing and loan programs vary greatly by lender.
"We want to make sure our veterans do not run into problems like the Conrad's have had," Kandell said. "Our goal is to help every veteran have a positive experience with home ownership."
Loan officer for Flagship Financial, Jason Skinrood, is an expert with VA jumbo loans and particularly IRRRL streamlines.
"MetLife's handling of the Conrad's loan was very disappointing," Skinrood said. "They denied the loan despite the home actually appraising for more than the loan amount requested in the refinance."
LowVARates.com offers a wide variety of lenders to help veterans receive the best customer service and fastest application process, particularly with VA jumbo loans.
To compare various lenders and see if you qualify for a VA loan, visit: http://www.LowVARates.com.
ABOUT LOWVARATES.COM
For the past 20 years LowVARates.com has been dedicated to serving veteran homeowners. We specialize in providing VA loans to qualified veterans for mortgage purchases and refinances. These loans provide lower interest rates and monthly payments than other traditional loans.
VA loans are currently the only program left that allows no-money-down loans providing a secure mortgage option guaranteed by the Federal Government. Our professional staff and loan officers will assist you to lock in low interest rates and take advantage of the unique opportunity provided through VA loans.
CONTACT:
Craig Walton
Director of Public Relations
pr(at)lowvarates(dot)com
Office: 801-341-7048
Cell: 801-824-1635
# # #