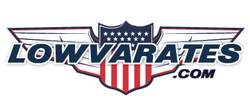 We want the men and women of the U.S. Armed Forces to have as much information as possible to make a wise decision with their VA home loan
Lehi, UT (Vocus) April 10, 2010
LowVARates.com is proud to announce a brand new tool on its website which allows potential and current VA loan holders to compare the pros and cons of some of the leading VA lenders in the nation.
LowVARates.com assists veterans in choosing from the best VA lenders including: Wells Fargo, Mortgage Investors Corp, MetLife, Flagship Financial and many more.
In today's marketplace it is becoming more and more important for veterans to be able to quickly shop for a VA loan or VA refinance and make the right decision on what lender is best suited to meet their needs.
LowVARates has over 20 years of combined experience in the VA mortgage world and uses this to educate veterans in their pursuit of home ownership.
Owner of LowVARates.com, Eric Kandell, feels the new web page will give unbiased information to veteran homeowners.
"We want the men and women of the U.S. Armed Forces to have as much information as possible to make a wise decision with their VA home loan," Kandell said.
The VA Lender Comparison page can be found at: http://www.lowvarates.com/va-loan-lender-comparison. The page outlines the pros and cons of each of these lenders as it pertains to VA home loans. The VA loan industry is dynamic and always changing. LowVARates will update the page as changes are made in the industry and amongst the various lenders.
Some of the most popular loans for veterans among these VA lenders include: VA home purchase loans, VA streamlines and VA hybrid loans. For detailed information on each of these loan programs you can visit us online at http://www.lowvarates.com.
Due to the extremely difficult economic environment many veterans have chosen the VA hybrid loan as a way to greatly reduce both mortgage payments and credit card debt. Mortgage Investors Corp has offered VA hybrid loans for years, however, many other lenders are just now starting to see the real benefits in offering the hybrid to veterans.
Wells Fargo is the nation's largest government lender and has a wide array of products, but the VA purchase loan is a specialty of theirs. MetLife and Flagship Financial both offer 100% cash out refinance loans for veterans so veterans can pay off debt and have home improvements up to 100% of the home's value.
"We hope all veterans will use the new VA lender comparison page," Kandell said. "For military homeowners, it will make the VA loan decision much easier."
ABOUT LOWVARATES.COM
For the past 20 years LowVARates.com has been dedicated to serving veteran homeowners. We specialize in providing VA loans to qualified veterans for mortgage purchases and refinances. These loans provide lower interest rates and monthly payments than other traditional loans.
VA loans are currently the only program left that allows no-money-down loans providing a secure mortgage option guaranteed by the Federal Government. Our professional staff and loan officers will assist you to lock in low interest rates and take advantage of the unique opportunity provided through VA loans.
CONTACT:
Craig Walton
Director of Public Relations
Office: 801-341-7048
# # #