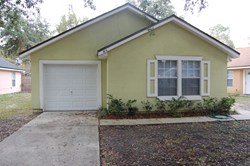 These new listings are designed to remove the legwork involved with researching a property and going through the application process.
Jacksonville, Florida (PRWEB) December 27, 2012
The JWBRentalHomes.com website now has vacant Jacksonville, FL rental properties listed to help renters to find an available home. These company owned properties represent the two, three, four and five bedroom homes that are now available for lease in North Florida. These new listings are designed to remove the legwork involved with researching a property and going through the application process. More information can be found at http://www.JWBRentalHomes.com.
Bankruptcies, poor credit and past foreclosures could complicate the approval process when someone applies for a mortgage. Banks and other lenders generally require an in-depth overview of personal credit to ensure that the loan amount can be repaid successfully.
Those that have been turned down in the past for a mortgage could find that the new property listings now available online provide easier to obtain occupancy due in part to new changes to the company application process.
The new elimination of the credit check policy with submitted rental applications is one way that the JWBRentalHomes.com website is helping to build more communities in and around Jacksonville. Applicants that do not have perfect credit no longer have to go through the process of credit approval upon submission of a completed application. A single background check for all that plan to live in an available property has taken the place of the credit review process.
The properties that are now offered online are easily accessed using the new search feature added to the company website. Instead of a simple list of property basics, this new search system is helping renters to filter out data that does not apply to a search. This system now makes it possible to search by rental price, bedrooms and other criteria that would normally be completed by a realtor. This new search tool can be accessed at http://www.JWBRentalHomes.com/homes-for-rent.
To speed up the rental application process, a new 15-minute or less showings form is now installed on the company website. This form is designed for renters to use before an application is submitted. The basic information that this form requires renters to submit can secure a showing in 15 minutes or less for any available property guaranteed. This new showings system is helping more people to perform a walk through much faster when seeking vacancies.
About JWB Rental Homes
The JWB Rental Homes company is a subsidiary of the Jacksonville Wealth Builders company. This North Florida property management firm restructured its business in 2012 and now solely offers properties that are owned outright. This new business move has eliminated third party investors and other owners that complicated the rental process for renters. The JWB Rental Homes company now provides affordable homes with short and long-term lease agreements for individuals and families. This company was recently named one of the fastest growing companies in Jacksonville.