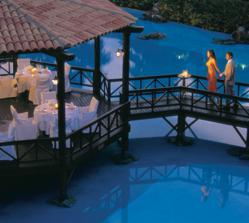 Whether you prefer the captivating romance ... of Italy, the charm ... of France, the idyllic splendor ... of Greece, or the energetic ambiance ... of Spain, our honeymoons in Europe will make you fall-in-love all over again
Moonachie, NJ (Vocus/PRWEB) February 28, 2011
Central Holidays, a leader in vacation deals to Europe, is pleased to introduce a wide selection of affordable Honeymoon vacation packages to Italy, France and Greece for travel in 2011. Each value-added package is designed with stays in romantically renown destinations and offers special inclusions such as candlelit dinners, champagne & flowers upon arrival, sightseeing tours, and more. Additionally, each honeymoon itinerary can be custom-tailored to meet the clients distinct interests and desires.To make it easier for couples to locate these vacation packages, Central Holidays has created a section on their homepage entitled "Vacation Just For You", which contains four different vacation types, one of which are the Europe Honeymoon Packages.
For additional savings, newlyweds can take advantage of Central Holidays' early booking discount offer where they can save 7%, if they book and pay for their honeymoon vacation by March 31st, 2011.
The following are a small selection of Central Holidays' 2011 Honeymoon vacation packages, which enable travelers to experience the romance and beauty in each of these enchanting Europe vacation destinations:
HONEYMOON I from $1585 (2 nts. Athens, 3 nts. Santorini & 3 nts. Mykonos) - This honeymoon begins in Athens with its Acropolis overlooking the city. Discover the lively nightlife of the Plaka and stroll through the narrow streets and alleys, lined with Tavernas and the sound of Bouzouki music. Greece is most famous for its islands and this package contains three of the best. Mykonos with its whitewashed harbor town and famous nightlife, Santorini built on the cliffs of the volcano offering magnificent views at sunset and Crete, Greece's largest island and home to the ancient Minoan civilization. Visit the Palaces of King Minos in Knossos, enjoy tranquil sandy beaches and turquoise sea, hike the Gorge of Samaria ending at sea level or discover the many picturesque towns of this island. Notable inclusions are candlelight dinner, a la carte, in Santorini & Mykonos, champagne & flowers upon arrival in Athens, half day city tour of Athens, Parthenon & Acropolis Museum, ferry transfers and more. Visit centralholidays.com/packages/Honeymoon I.html.
HONEYMOON IN ROME & TAORMINA from $1875 (3 nts. Rome & 3 nts. Taormina) - This vacation package begins by exploring Rome from the point of view of two star-crossed lovers. It's hard to say what to find most breathtaking about the eternal city: the Vatican, the Forum, Colosseum, or a Roman Cappuccino "al fresco". Rome is one of the most beautiful and historic cities in the world. Go back in time and imagine what it must have been like to live in ancient times just by exploring the Roman ruins for a day. Then continue your ideal honeymoon in Taormina, Sicily's crown jewel. Taormina's irresistible fascination captures both those who seek a peaceful holiday in contact with nature and those who prefer discovery and adventure. Notable inclusions are romantic dinner in a restaurant in Rome & Taormina, champagne & flowers on arrival at hotel in Rome & Taormina, private Rome-by-night sightseeing tour with guide & car, and more. Visit centralholidays.com/packages/Honeymoon In Rome & Taormina.html.
HONEYMOON IN PARIS & VENICE from $2275 (3 nts. Paris & 3 nts. Venice) - Combine Paris, the City of Lights, with the elegance of Venice and discover the romance for which both cities are renowned the world over. Add the fairy-tale appearance of Venice and charm of Paris, their historical sites and delicious cuisine and the honeymoon experience is like no other. Explore Venice, an enchanting and magical city at a casual pace. Mingle with the Venetians, walk their streets. A gondola ride and serenade on moonlit canals is a blissful and unique experience never to be forgotten. Visit the golden basilica of St. Mark and the Doge's Palace decorated by 16th Century artists such as Titian and Tintoretto. Paris and Venice are indeed a matchless combination. Notable inclusions are romantic 3-course dinner at a lovely restaurant on the Champs Elysees, romantic dinner at a restaurant in Venice, 1-hour Seine River cruise, gondola serenade with music in Venice, flowers in the room in Paris & Venice, champagne in room upon arrival in Venice, and more. Visit centralholidays.com/packages/Honeymoon In Venice & Paris.html.
HONEYMOON IN VENICE & THE AMALFI COAST from $2574 (3 nts. Venice & 3 nts. Amalfi Coast [Capri, Positano or Sorrento]) – Be inspired by the sweet serenade of a gondolier and experience Venice, considered the most romantic city in the world. After three romance-filled nights, travel to and choose between Capri, Sorrento, or Positano along the Amalfi Coast where vistas are breathtaking, open-air cafés serve indulgent delicacies, and mountains plunge to the coastline overlooking the azure sea. Notable inclusions in this vacation deal are romantic dinner with champagne at selected resort in Amalfi Coast, romantic dinner at a restaurant in Venice, gondola serenade with music in Venice, flowers in the room in Amalfi Coast, champagne in room upon arrival in Venice, and more. Visit centralholidays.com/packages/Honeymoon In Venice & The Amalfi Coast.html.
"Whether you prefer the captivating romance and artistic allure of Italy, the charm and cosmopolitan appeal of France, the idyllic splendor and exotic mystique of Greece, or the energetic ambiance and magnificent diversity of Spain, our honeymoons in Europe will make you fall in love all over again," said Fabio Sembiante, Vice President of Sales & Marketing for the Central Holidays.
For additional information and for the complete list of honeymoon vacation deals available through Central Holidays, please call Central Holidays at 800-935-5000 or visit them online at CentralHolidays.com.
About Central Holidays:
Vacation packages, vacation deals, Greece cruises, and Italy vacations: founded in 1972, Central Holidays offers superior travel programs, value and service to enchanting destinations throughout Italy, Spain, Portugal, France, Greece and Turkey, plus dozens of Mediterranean and European River Cruise itineraries and worldwide Ski programs! For more information, contact Central Holidays at 1-800-935-5000 or visit their website at CentralHolidays.com.
Media Contact:
Marlene Oliver
NJC Communications
(305) 491-0512
Cassie Dittrich
NJC Communications
(802) 522-0714
Technical Contact:
Anthony Berardo
Berardo Marketing Group, LLC
201-970-7698
bmg-website.com
# # #