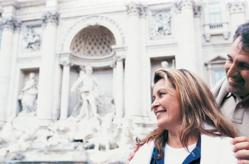 Why book air, hotel and other vacation components separately when you can save money and time with an escorted vacation package? It's the best value for their money when visiting all the wonders of Italy and Europe.
Moonachie, NJ (Vocus/PRWEB) January 13, 2011
Central Holidays, leader in vacation packages to Europe, is pleased to announce a 15 percent year-over-year (2009-10) growth in bookings overall and a 30 percent increase in bookings for escorted motorcoach packages. The latter reveals a marked shift in consumer demand for guided tour packages from previous years, where independent packages and rate-driven vacation deals were all the rage.
"We are very pleased to report this growth in 2010 and the momentum of bookings continues to increase as we start 2011," said Fred Berardo, President and CEO of Central Holidays. "The feedback that we have received from agents and travelers alike about their experiences with Central Holidays has been positive and enthusiastic. We are proud that over 80% of our travelers are repeat customers or referred by past travelers. We intend on continuing to offer exceptional travel programs and client service to assure they keep coming back for more and referring more friends to travel with Central Holidays!"
"It is also exciting to see such a significant increase in bookings of our Escorted Motorcoach Packages. Over the years, the 'guided vacation' concept has evolved and Central Holidays is pleased to be at the forefront of this new generation of touring – we've thrown the tired misconception of European Tours from decades ago... 'If it's Tuesday, we must be in Venice'...out the door. Today's European escorted tours feature more time at leisure to explore on one's own; they visit not only the most famous places but also off-the beaten path towns and villages; and many include exclusive experiences like: cooking classes, private museum visits, vineyard tours; plus so much more… with an average of almost 3 nights in each city." continued Berardo.
"Beyond that, it's clear that agents and their clients are realizing what a terrific value Central Holidays' Motorcoach Escorted Tours are...They are flexible, worry-free and easy to budget," said Berardo. "Why book air, hotel and other vacation components separately when you can save money and time with an escorted vacation package? It's the best value for their money when visiting all the wonders of Italy and Europe."
Central Holidays presents dozens of Motorcoach Escorted Tour programs throughout Italy, Spain, Greece, Turkey and Egypt – including seven escorted programs to Italy alone! In fact, Central Holidays provides the largest selection of cruise vacation packages in Italy, Greece and throughout the Mediterranean than any other specialty operator.
The company's Italy Premier Escorted packages also feature the Central Holidays Signature Dining Plan that includes most meals (breakfast daily – plus many lunches and dinners) served in hotels and local restaurants. In addition, wine, coffee or cappuccino and mineral water at lunch and dinner are included in the tour price, which can save hundreds of dollars per person! Extensive Sightseeing and bonus touring is included in each Motorcoach Escorted package as well as the services of a professional, English-speaking tour director throughout the itinerary.
Plus, Central Holidays carefully selects centrally located hotels, First Class and superior first-class, that are within walking distance from many attractions. Staying in the heart of each city makes it easy to stroll to restaurants, cafés, entertainment venues, and attractions during time at leisure offering the maximum time and flexibility – not to mention additional savings on transportation – to explore and enjoy each stop along a trip.
To see a complete list of the Central Holidays Escorted Tours and guaranteed departures for 2011, please visit http://www.centralholidays.com and click on the "Motorcoach Tours" tab.
Spain Vacation Packages, Greece travel deals, Mediterranean Cruises and Italy vacations: Founded in 1972, Central Holidays offers superior travel programs, value and service to enchanting destinations throughout Italy, Spain, Portugal, France, Cyprus, Greece and Turkey, plus dozens of Mediterranean and European River Cruise itineraries and worldwide Ski programs! For more information, contact Central Holidays at 1-800-935-5000 or visit their Web site at http://www.centralholidays.com.
MEDIA CONTACTS:
Marlene Oliver
NJC Communications
(305) 491-0512
Cassie Dittrich
NJC Communications
(802) 522-0714
Technical Contact:
Anthony Berardo
Berardo Marketing Group, LLC
201-970-7698
bmg-website.com
###